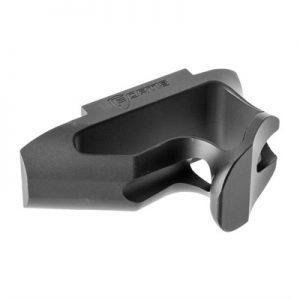 Vertical and angled foregrips are designed to enhance your shooting experience but are not favored by all shooters. Some shooters have identified several advantages of using foregrips including:
Having a reference point for hand placement.
May allow for easier manipulation and better hold, depending on accessories.
Supports non-standard shooting positions.
May significantly maximize vertical stability for range shooters.
Allows shooters to avoid handling an overheated barrel after rapid firing.
Having the ability to place the hands in the same position is essential to developing good marksmanship skills. Vertical or angled foregrips can be used as a hand placement guide allowing the shooter to accurately place his or her hands in the proper place every time the rifle is picked up. The key is to ensure that the foregrips are both properly installed and properly used.
Foregrips should be gripped so they provide the most efficient placement for the hands. If there is an alternative place on the rifle that would provide the shooter more muzzle control, the foregrips should not be used.
Vertical and angled foregrips may also enhance shooters ability to gain a better hold on the rifle and improve their manipulation ability. However, some marksmen who train without foregrips may experience a transition period after installation. Once a shooter becomes accustomed to foregrips he or she may excel in shooting from both non-standard and standard shooting positions. Before purchasing foregrips for any rifle, it is important to understand the value, differences, advantages, and disadvantages of each type.
Vertical Foregrips
Vertical foregrips are installed on the bottom of barrel extending straight down. They come in several sizes to accommodate diverse shooters' needs. When vertical grips are not used properly the shooter can lose control of the rifle. These grips are also known to get in the way of some shooting techniques and may get tangled in other gear. Before purchasing vertical foregrips consider all the options, including angled foregrips.
Angled Foregrips
The angled foregrips were designed to address what some shooters consider, the downfalls of the vertical foregrips. In addition to the advantages of the vertical foregrips, angled foregrips provide a more comfortable grip without losing any control over the rifle.
These grips are installed on the belly of the rifle's barrel as far forwards as possible. Proper installation of the angled foregrips allows the shooter to use the C-clamp shooting technique which is often preferred over other techniques. The angle of the grip also helps to avoid becoming entangled in other gear.
Consumers have a plethora of angled foregrips to choose from; five popular styles include:
Best AR-15 Angled Foregrip Comparison Table
Image
Description
Features
Price
FORTIS MANUFACTURING - SHIFT SHORT ANGLED GRIPS


** Editor's Choice - Best AR-15 Angled Foregrip **

●   One Piece Billet Design
●   Slotted Screws Attachment
●   Military Specification Type III Hard Coat Anodized
●   Light weight 2.5 oz
●   Made in USA
●   3.52 in x 1.17 in x 1.77 in
MAGPUL - PICATINNY AFG1 ANGLED FORE GRIP


** Best Budget AR-15 Angled Foregrip **

●   Polymer three-piece design with an interchangeable finger shelf
●   All mounting hardware included
●   Fits Mossberg MVP with standard Picatinny rail slots
●   Made in USA
●   5.55 in x 1.77 in x 1.75 in

MAGPUL - PICATINNY AFG2 ANGLED FORE GRIP
●   Polymer three-piece design with an interchangeable finger shelf
●   All mounting hardware included
●   Fits Mossberg MVP with standard Picatinny rail slots
●   Made in USA
●   4.7 in x 1.37 in x 1.94 in
STRIKE INDUSTRIES - PICATINNY COBRA TACTICAL FOREGRIP
●   Matte finish for Black/FDE
●   Steel mounting nuts and screws
●   Textured for secure gripping
●   Cobra "hoods" for heat and rail protection
●   Integrated finger stop for non-slip and surface bracing
●   Multiple gripping configurations for different hand sizes and shooting preferences
●   4.3 in
BRAVO COMPANY - KEYMOD BCMGUNFIGHTER KAG ANGLED GRIP
●   Forward rake gives positive retention when using C-Clamp method of handguard support
●   Works as a rest for supported firing positions
●   Slight angle without significant bulk
●   Small profile
●   Textured front and back
●   Made in USA
●   2.75 in x 0.70 in x 1.55 in
These angled foregrips are all designed to do the same thing. When selecting a foregrip the shooter should keep in mind preference and test different styles to identify what makes him or her the most comfortable and confident when shooting. Collecting suggestions from other riflemen can help to start the process but should not be the selling factor.
1. FORTIS SHIFT SHORT ANGLED GRIPS
** Editor's Choice – Best AR-15 Angled Foregrip **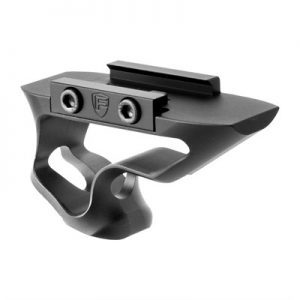 The Fortis Manufacturing Shift Short Angled Grip is lightweight and easy to install. The grip is smaller than other angled foregrips reducing the risk of getting entangled with other gear or causing obstruction problems. This grip also has two different mount methods to ensure that it can be mounted to any AR-15. The aluminum and hard coat give the grip a more finished looked that is comparable to the AR-15. This grip also has a hook at that bottom that provides extra support to the pinky reducing the feeling of the possibility of the hand slipping off the grip.
2. & 3. MAGPUL PICATINNY AFG1 ANGLED FOREGRIP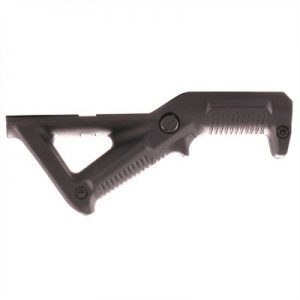 The difference between the Magpul Picatinny AFG1 and AFG2 Angled Fore Grips are very subtle. The AFG2 is slightly smaller than the AFG1 with both grips weighing less than three ounces. One of the most obvious difference is the top of the grip where it is mounted: the AFG1 hugs the barrel making it less universal to some ARs than the AFG2. The AFG2 has a flat mount that easily installs to most AR-15s. The AFG1 needs a minimum of four inches of rail space for installation where the AFG2 only needs three inches.
4. STRIKE INDUSTRIES PICATINNY COBRA TACTICAL FOREGRIP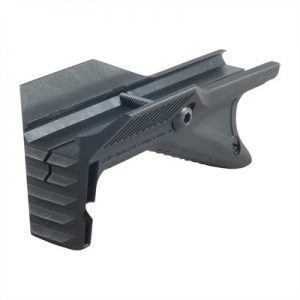 The Picatinny Cobra Tactical Foregrip looks large but still allows for diverse shooting techniques to be used. This grip provides a little more protection from the heat of the barrel when rapid firing providing placement for the hand lower than other angled foregrips. The angle on the Picatinny Cobra Tactical Foregrip is not as steep as many other foregrips which may be more comfortable for some shooters. This grip also provides an extra grip in the front that can be used to pull the rifle in closer to the body and increasing control.
5. BRAVO COMPANY KEYMOD BCMGUNFIGHTER KAG ANGLED GRIP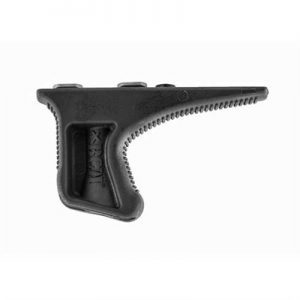 The KeyMod BCMGunfighter KAG Angled Grip is very small, easy to install, and lightweight. Some shooters prefer a larger foregrip for extra comfort and support, complaining that while firing it sometimes feels as though their hand may slip off the grip. This angled foregrip provides a low-profile option with a palatable price. The Polymer material provides a strong, sturdy, reliable option without adding weight or bulky extras.
How do Grips Fit in With All the Other AR-15 Upgrades?
Responsible patriots are educated about the firearms they own and train regularly to ensure their safety and the safety of those around them. Inventors are constantly seeking new ways to make all types of firearms safer and provide tools and customization options that help improve marksmanship. The AR-15 is one of the most sought-after rifles in America among preppers, trainers, hunters, farmers, and competitive shooters. More than 150 rifle manufacturers are in operation today, allowing second amendment supporters a plethora of options when purchasing an AR-15. Once the rifle is purchased, customization is almost always a necessity that can help the shooter become more comfortable with the rifle and enhance his or her marksmanship skills. Common upgrades and customization include:
Grips
Triggers
Trigger Guards
Sights & Backup Sights
Charging Handle
Safety Selector
Extended Bolt Release
Handguards & Rail Systems
Muzzle Device
Stocks
Barrels
Optics
Sling & Sling Mountings
Some patriots may choose to build their own AR-15 by purchasing their custom pieces and building the rifle at home. Upgrading, customizing, or building an AR-15 can be an overwhelming process depending on the resources a buyer references for advice. Every gun enthusiast will have an opinion of his or her own; however, every gunman should prioritize their own needs to ensure their needs are met.
One standing argument is the most efficient way to hold an AR: use a standard handguard, add a vertical foregrip, or consider an angled foregrip. Is one option better than the other? The answer to that question can only be answered by the person firing the rifle; what works for one person might not work for the next. Know the facts and test out the options.
Conclusion
Every shooter is different and typically have different needs, habits, and comfort zones. Testing a variety of options will ensure that the right accessories and upgrades are made to a personal rifle. Upgrading and customizing a rifle can enhance marksmanship skills but could also surface other challenges including running out of space to for new accessories and weighing down the firearm. Individual needs should be taken into consideration when customizing a personal AR-15; following trends could lead to unnecessary upgrades that result in diminished skills and frustration.