Deciding on a particular type of reloading press may require some deep understanding and some research on how an individual equipment work. Among the three types of reloading presses, a turret press is considered to be the one in the middle as it works on greater batches of brass overtime compared to a single stage reloading press. While it still cannot compete with how fast a progressive reloading press does its job when it comes to the number of bullets produced.
Benefits of a Turret Press
A turret reloading press holds multiple dies and works on a single case at a time. Every time the lever is pulled, a particular process is accomplished. Most of the time, the first stage would be the decapping die while the priming is also usually done together, second would be the case expanding die as well as charging the case with the powder, followed by the bullet seating and then the crimping process.
Looking for the best turret press is the goal for the most reloader. Some would greatly appreciate those turret presses that feature automatic indexing so that it saves the user from rotating the turret all the time. The turret plate would usually hold four dies which make this particular press work faster that a single stage reloading press. Whether you are a beginner or seasoned reloader, you will have no trouble getting used to this equipment and be able to start reloading batches in no time.
Below are some of the best in performance and quality turret presses that can be considered by any reloader who might be looking for their very first press or maybe upgrading to a new one. To better help you narrow down with your choices, here we are sharing the top 3 best turret press one the market.
Top 3 Best Turret Reloading Press Reviews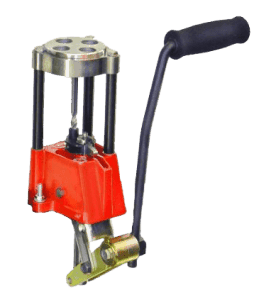 Lee's 4 hole turret press has been one of the most popular choices when it comes to turret press and one of the best features that it can offer its users is its automatic index. Whenever the user pulls down the lever, the turret plate automatically rotates to the next stage of die for a continuous process. This will save a lot of time for the reloader by not manually to switch it. However, it can also be deactivated if you wish to reload cases that are over 4 inches long.
Lee Cast Aluminum 4 Hole Turret Press with Auto-Index is also compatible with most upgrades such as the Large and Small Primer Feeder for an easier process of priming. The Auto-Disk Powder Measure for accuracy as well as additional 4 hole turret heads to make reloading other calibers easier with no adjustments needed once they're all set up the first time.
Basing on most Lee 4 hole turret press review, users find this particular equipment easy to work with and produces over 250 bullets in the span of an hour. So if you are planning to make the same quantity, this turret press could be your best pick.
Product Features:

Sturdy and Well Built Reloading Press
Easy Set Up
Cast Aluminum
4 Holes
Pros
Automatic Indexing – for easier process of reloading
Easy to Remove Turret Plate – no need to remove all dies for different calibers
Versatility – work on different calibers even those that are more than 4 inches long
Cons
More expensive than a single stage press
Dies are not included with the package
The Lyman Reloading Press T-Mag Turret Press features a 6 die station turret head wherein reloaders will be able to accomplish all stages when it comes to reloading their ammos; starting with removing the spent primers up to the last stage which uses the crimping die. Users can easily turn the turret to proceed to the next stage while it also allows reloaders to easily remove the turret plate in cases where in they might need to load multiple types of calibers.
It also features an ambidextrous handle wherein you can easily use your right or left hand. This handle is also used to remove the turret head with no other tools required. It works on most standard sized dies as well just in case you have older ones that you still need to use, which also makes it one of the best reasons why most Lyman T-Mag turret press reviews are positive.
Aside from this, the Lyman Reloading Press T-Mag Turret Press also includes a primer catcher that will hold all the spent primers during the process. Users can also easily remove the turret head to work on a different caliber. By doing this, reloading ammo will be a lot easier compared to removing all dies every time you switch calibers.
Product Features:

6 Holes
Ambidextrous Handle
Stable and Durable Iron Frame
Rust Proof
Pros
Compatibility – Works with standard dies (7/8″ x 14) of any brand
No Additional Tools Needed – press handle is also used as a wrench
Easy Set Up – reloading press comes with everything that you need to set up, just mount on a stable bench press
Cons
Turret head needs to be turned manually
3. Lee Precision Classic Turret Press Kit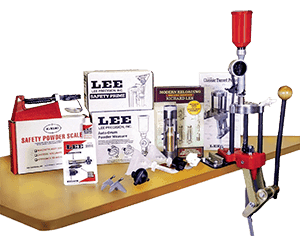 If you are looking for a great buy when it comes to considering a turret press, you definitely won't go wrong with the Lee Precision Classic Turret Press Kit. This kit provides almost all that you need in order to start reloading and producing about 250 rounds in an hour. Aside from the press itself, reloaders will also get the important accessories and tools that will make the process easier and more accurate. This is also basically why most Lee Precision Classic turret press kit reviews are given high scores.
The Pro Auto-Disk powder measure and riser are included to ensure that all measurements of the powder are accurate. When it comes to the priming process, Lee has already added the safety prime tool to do the job with ease. Its 4 hole turret head can accommodate the dies that are needed to finish one bullet. And with its automatic index feature, reloaders will be able to save more time compared to those that are manually done.
The kit includes Cutter, Chamfer Tool, Lock Stud, Large and Small Primer Pocket Cleaner and a tube of Lee case sizing lube. Not only reloaders will be able to save on buying these tools separately, but it will also make it easier to start with reloading having all the things needed in the first place.
Product Features:

4 Hole Turret Head
Includes case conditioning tools for easy reloading process
Load more than 250 rounds in an hour
Pros
Auto Index – no need to turn the turret head manually for every stage of reloading
Versatility – works with most handguns and small rifle cases
Cons
Dies are not included
You might need to purchase another turret plate for setting up for a different caliber to save you from removing dies all the time.
Bench Plate is not included
Things to Consider Before Buying a Turret Press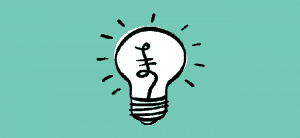 A turret press is a great equipment to work with when reloading ammo. It saves the reloader a lot of time during the process because all of the dies used for each stage are already set up on the turret head. For buyers, the first thing that you may want to consider is the main use of the turret press that you will need. Depending on the caliber that you will be loading most of the time will help you choose the right brand.
The best turret press for some may not be the same for everyone else. Some prefer those with automatic index features while some do not. Some seasoned reloaders may already have a particular brand in mind that they trust over the years while the newbies are just dependent on what most people use. Most of the time, it's better to get those turret presses that includes the whole kit. However, some may already have those particular tools for the longest time that they maybe into reloading.
Consider your budget your willing to spend as well to make sure that you are spending wisely and not too much for a reloading press. Some brands may be too pricey while some cheaper ones can also provide the same functions and features.
Conclusion
Getting a brand new turret press, whether it will be your first or just an addition to your other equipment's is something to look forward too. A turret press is recommended if you are looking to producing about 200-300 bullets per hour ideally. This particular press is also versatile as it can accommodate most cases to be worked on. And since it is somewhere in between the single stage and progressive reloading press, expect the price to be the same thing as well.
Safety is also another thing that must be considered all the time. Make sure that you have the right amount of space at home or a separate work area for all your reloading deeds. Choose a reloading press that includes a complete manual for setting up as well as guides on how you should work with every caliber that you are working on.