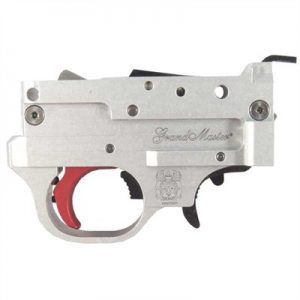 The 10/22 manufactured by Sturm, Ruger & Co. has become a ubiquitous firearm, with over five million made since its release in 1964.  You would have to search far and wide to find a gun enthusiast who has never owned one of these fine rifles.
One of the primary reasons the 10/22 has seen such prolific sales is its ease of modification and the vast array of options that can be used to enhance a gun's function and performance.  This is fortunate for us varmint hunters and target shooters as the 10/22 is known to have some slight accuracy issues out of the box.  But don't worry, if fine-tuned groups are your calling, we have the answer!
You could add a lapped barrel to your rifle and perhaps see some benefit.  Bedding the stock would probably narrow down your impacts.  But if you were to do just one thing to see the greatest benefit, it would be to address Ruger's somewhat sloppy trigger work.  You could machine and polish the trigger to smooth it out but your best bet would be to replace the whole group in one shot with something that was made to be accurate!
Replacing the trigger or trigger group for the 10/22 is intentionally simple.  You can go with simple hammer/trigger replacement kits to entire trigger groups that just drop in.  None of the options are complicated and can easily be installed by a layperson.  Working on a 10/22 trigger takes no gunsmith specific tools though you should invest in a good set of gunsmith's screwdrivers.
So rather than wasting your money and sending it off to a gunsmith for a polishing job and some new springs, it may be time to look at one of the many high-quality options for trigger replacement.
Best Ruger 10/22 Trigger Comparison Table
Image
Manufacturer
Description
Made In
Type
Price
VOLQUARTSEN
RUGER® 10/22® TRIGGER GUARD 2000


** Editor's Choice - Best Ruger 10/22 Trigger **

USA
Drop In
Power Custom
PRETRAVEL ADJUSTABLE COMPETITION TRIGGER KIT


** Best Budget Ruger 10/22 Trigger **

USA
Kit
Ruger
10/22® BX-Trigger
USA
Drop In
Clark
RUGER® 10/22® DELUXE HAMMER/TRIGGER KIT
USA
Kit
POWER CUSTOM
RUGER® 10/22® TRIGGER MODULE
USA
Drop In
Timney
10/22® DROP-IN TRIGGER ASSEMBLY
USA
Drop In
1. VOLQUARTSEN RUGER® 10/22® TRIGGER GUARD 2000
** Editor's Choice – Best Ruger 10/22 Trigger **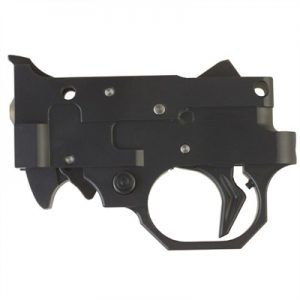 Another company with a hard-earned reputation for quality, Volquartsen is definitely a competitor for the finest triggers available.  Much of a trigger's response is a matter of proper calibration and that is where the high dollar kits really set themselves apart.  Volquartsen has everything down to a science.
Much like the other offerings in its price range, you will get a phenomenal trigger with a clean break and no slop.  It does offer adjustable overtravel and comes standard with an auto bolt release and extended mag release.  The housing is milled aluminum and uses hardened steel components.  What Volquartsen does, that most companies do not, is offer a slightly repositioned trigger that pulls straight to the rear rather than a slight upward arc.
The Volquartsen is in the same price range as its main competitors, none of which are budget options.  But the trigger is a beautifully crafted piece.  If you are after craftsmanship, you will get it!  The tolerances are tight and the function is pretty near flawless.  Volquartsen triggers last a lifetime with exceptional wear resistance with simple standard maintenance and cleaning.
2. POWER CUSTOM PRETRAVEL ADJUSTABLE COMPETITION TRIGGER KIT
** Best Budget Ruger 10/22 Trigger **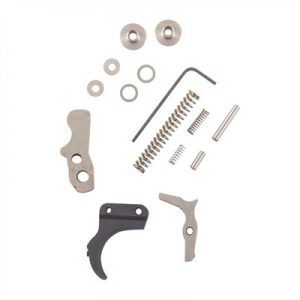 If you are looking for the quality parts of the Power Custom unit and are willing to put in the work but don't have the budget, forgo the drop-in unit and get the parts kit!  Like the Clark unit above, you will need to disassemble the trigger group to replace the parts, but the process is still a relatively simple one.
The Power Custom parts kit is really a more bare-bones offering of the module above.  This kit includes a new trigger, hammer, sear, and all the associated springs and pins to get you going.  The trigger is much the same as on the drop-in version with a trigger pull adjustable between one and three pounds.
This is a real value for your dollar.  It is twice the price of the Clark barebones kit but only half the cost of the full drop in Power Custom module.   Get this installed and it should give you tolerances comparable to other Power Custom offerings with a crisper and more refined trigger than the Clark Custom kit.
3. RUGER 10/22® BX-Trigger
Advertised as "Reliable, rugged, and safe" the BX-Trigger is made from a high impact, low weight molded polymer.  This option is by far one of the most budget-friendly offerings if you are looking into upgrading your trigger.  This is a full replacement module that replaces the existing action in your rife.  Designed and manufactured in-house by Ruger, the BX trigger offers a crisp breaking trigger between 2.5 and 3lb.
Despite being a polymer, Ruger claims that this trigger unit meets or exceeds the industry standard for drop testing.  Since this is a newer offering in the trigger market it will be interesting to see what time and wear has to say about the continued function and reliability of the unit.
Considering the already light weight of most 10/22s, it seems unnecessary to design a polymer trigger for weight.   Cost is really the only advantage trigger group against its competitors.  So if you are on a budget, this may very well be the best option for you!
4. CLARK CUSTOM RUGER® 10/22® DELUXE HAMMER/TRIGGER KIT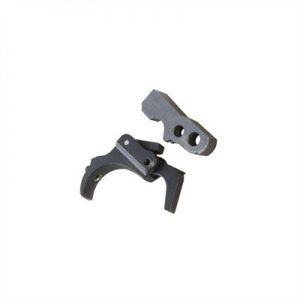 If polymer offerings aren't your taste but you are still on a budget, the Clark Custom still fits the bill!  This kit is not a full drop in unit but a replacement parts kit which will involve more effort and a little more know-how to get installed.  Still, you should be able to conquer the task with little difficulty and some basic tools.
This kit comes with an aluminum trigger and steel hammer, disconnector, sear, and sear spring.  About the only thing this doesn't replace is the housing which saves you money at the expense of a little time and effort.  In the end, you will end up with a trigger in the 2.75 to 3lb range.
The directions for installation are a little vague but not to the point that it can't be figured out.  Installation of these kits is the main disadvantage over full drop in modules.  There also seems to be some slight quality control issues sometimes resulting in a trigger pull that is higher than desirable and a trigger that is not as clean and crisp as it could be.
5. POWER CUSTOM RUGER® 10/22® TRIGGER MODULE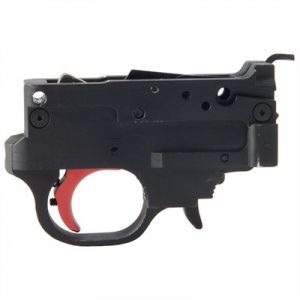 Power Custom has a reputation for producing some of the best-machined parts of any company on the market and their 10/22 offering appears to uphold that reputation.  This full drop in module will leave you with a clean breaking trigger with an adjustable pull from 1.25 to 3lb pull every time!
They may be more of a new kid in town with their triggers but still have 30+ years on the market and plenty of know-how that shows in the design.  The Power Custom unit offers a great trigger upgrade and throws in trigger guard safety (like an M1 Garand), and an extended and much easier to use magazine release.  These are both cleverly positioned to make manipulating the gun easier.
Milled from a solid aluminum billet with mostly steel parts, this should be a durable unit without adding a ton of weight.  All the quality and function does come with a price.  This is the most expensive offering on this list, coming in a whopping 5 times the cost of the Ruger unit.  But you do get what you pay for!  The Ruger unit will never be able to keep up with the accuracy this precisely machined trigger group boasts.
6. TIMNEY 10/22® DROP-IN TRIGGER ASSEMBLY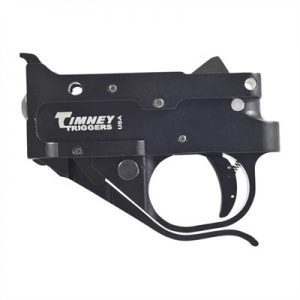 Timney triggers have been around for years, in fact, there are probably more Timney triggers in dedicated competition rifles than any other brand.  They have a near flawless reputation that has been earned through a constant search for perfection.  Their quality is proven but that quality comes with a price.
This particular Timney trigger is milled from a single aluminum billet with steel trigger, sear, and hammer that have been hardened for wear resistance.  The trigger group is set at 2lbs from the factory where they are hand assembled and tested.  There is an auto bolt release as a standard feature and a heavily modified magazine release that can be operated from the shooting position with one finger.
As a full replacement module, this is a pricey option. The Timney does tend to run a little less than the Power Custom replacement action but still costs nearly as much as the 10/22 itself.  For that money, you have to expect some return and you will get it!  The Timney has no creep and breaks clean with a very consistent pull.  And that is no less than you should expect with a company with Timney's reputation.
THOUGHTS ON SELECTING A 10/22 TRIGGER
The 10/22 is undoubtedly a fine rifle and with a little attention, it can be among the most capable .22s on the market.  A drop-in trigger is probably the single best thing you can do to maximize the performance of your rifle but with so many quality options, it can be a hard choice to make.
The first consideration is always budget.  If you simply want a useable upgrade but your fun money is tight, don't fret!  The drop in BX-Trigger from Ruger's in-house team will only set you back about $65.00 which is almost unbelievable for a full drop in group.  It isn't the best trigger out there by far, but it knocks the socks off the factory trigger.
If you are slightly handier, the Clark Custom hammer/trigger combo is a good choice at around $80.00 that will get you a great trigger but is a bit more challenging to install.  The trigger itself is probably on par with or slightly better than the BX-Trigger but it's hard to believe that the Clark Custom wouldn't last longer and perform better as things start to wear in.
In the mid-range, the Power Custom parts kit will get you everything you need out of a kit for around $150.00 but will require even more work to install than the Clark Custom.  The end result is a trigger that will shoot circles around the Clark custom but at nearly twice the price, that should be no surprise.
If the budget is larger, the Timney, Volquartsen, and Power Custom full actions all run in the $200 to $300 dollar range depending on the retailer.  These kits all offer improved safeties and mag releases and are quality machined and perfectly fitted.  Any of these triggers will perform better than your wildest expectations.
The second deciding factor is how much work you are willing to do.  Any of the full actions are just drop in and done.  You can be back up and shooting in under 5 minutes with just a screwdriver.  If fooling around inside a gun isn't your cup of tea, these are by far the best option for you.
If a little gun surgery is all in a day's work, you can get a great trigger for less with one of the parts options, especially the Power Custom kit.  These are still not a difficult job to install but are slightly more finicky than a simple drop in action.  Especially if you are prone to losing springs every time you touch one.
If you want a gun with the same setup as a factory 10/22 and just a better trigger, the BX-Trigger, Power Custom Kit and Clark Custom will leave you with a gun that is pretty much as designed.  If a few extra options are what you need, the other drop in actions all feature improved safeties, automatic bolt releases, and modified magazine releases.
WHAT TO BUY
It's hard to make a recommendation in such a diverse market.  For a somewhat budget option, there is no doubt that I would choose the Power Custom – Trigger Kit.  It's a great kit that will satisfy any target shooters trigger finger.  But in a sky's the limit scenario, I would end up with the Volquartsen – Drop In Trigger.  I do honestly believe that the Timney is a better trigger but I have a hard time getting past its wonky mag release.  As for the Power Custom module, it just lacks the finish that I would expect for a $300.00 trigger and I don't see that much added benefit.