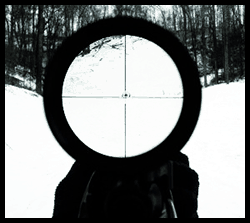 Looking for the best crossbow scope?
Crossbow hunting has been a popular hobby for many who like adventure and outdoor activities. The moment you decide to own one, you will quickly find yourself wanting to find the best crossbow scope you can get to enhance the performance of your crossbow.
Knowing the features to look out for is very important. In this crossbow scope review, we have identified the top crossbows in the market today, and from there, you will be able to decide which one will work best for you.
Best Crossbow Scope Comparison Table
Image
Description
Type
Optics
Objective Lens
Length
Rating
Price
Nikon 8461 Bolt XR Crossbow Scope


** Editor's Choice - Best Crossbow Scope **

Regular
3x
32mm
12"
9.6
TRUGLO Crossbow Scope 4X32 with Rings APG


** Editor's Choice - Best Budget Crossbow Scope **

Regular
4x
32mm
9"
8.5
BSA 30mm Red Dot Scope with 5 MOA1x


** Editor's Choice - Best Crossbow Red Dot Scope **

Red Dot
1x
30mm
5.2"
8.1
Sightmark SM18008 Photon XT 4.6x42S Digital Night Vision Riflescope4.6x


** Editor's Choice - Best Night Vision Crossbow Scope **

Night Vision
4.6x
42mm
15.7"
8.6
Hawke Crossbow 1.5-5X32 IR SR Scope with Illuminated Circles
Regular
1.5-5x
32mm
8.3"
7.7
Excalibur Shadow Zone 2-4X32mm Scope
Regular
2-4x
32mm
13"
8.4
Hammers Compact Red/Blue Illuminated Multi-line Reticle Crossbow Scope 4X32CBT
Regular
4x
32mm
8"
7.8
Simmons RedDot 1x 30mm Illuminated Scope
Red Dot
1x
30mm
5.3"
6.4
Truglo Red-Dot Crossbow 30Mm 3-Dot Sight
Red Dot
1x
30mm
3.8"
7.6
Yukon Nvrs Titanium 2.5X50 Varmint Hunter Night Vision Riflescope
Night Vision
2.5x
50mm
12.9"
6.8
Best Crossbow Scope Reviews – Regular
1. Nikon Bolt XR Crossbow Scope Black Matte (BDC 60) Review – Shockproof, waterproof, fog proof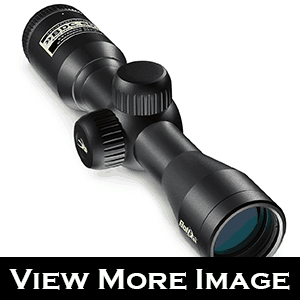 If you are a wild hunter who loves to hunt in wild environment with the hostile weather, Nikon Bolt XR crossbow scope should be the one you pick.
The Nikon Bolt XR Crossbow Scope features a compact and lightweight design which fits almost every crossbow design. It is Parallax-free at 20 yards while its large ocular with Quick Focus Eye Piece is Shockproof, Waterproof and Fogproof. Nikon's zero-reset turret adjustments will make it easy for the user to remember their sight-in point. All it takes is just a simple lift on the spring-loaded adjustment knob and rotate it to the user's 'zero'.
Nikon Bolt XR Crossbow Scope has 3 to 32x magnification scope and a 32mm objective lens. It can transmit up to 92 % of it available light for brightness as well as contrast. The scope comes in matte black and weighs 11.2 ounces and about 8.1 inches long.
It is very lightweight. You will not trace the weight difference after joining the crossbow scope. Additionally, it has 32x magnification capability.
Anyway, some drawback here. It does not include a ring. And the reticles are not illuminated. In my opinion, illuminated reticles are not a must here according to its using environment.
2. Truglo Crossbow Scope 4X32 with Rings APG Review – best price to performance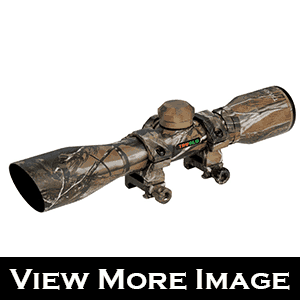 For a more affordable crossbow scope that doesn't sacrifice any of its great features, the Truglo Crossbow Scope is one product to consider. It has a generous 4inch eye relief for better and more accurate shooting. Its fully coated lens will provide its users maximum brightness as well as clarity and contrast when aiming for their target. It has 4x magnifications, and 32 mm lens can deliver clear and accurate sight of your prey.
Unlike other brands, the Truglo Crossbow Scope already includes mounting rings so that you can easily mount it to your crossbow. The rings also have the same design which is camouflage which gives it a better look when installed on your crossbow. This makes a great choice for getting your very first scope or first upgrade.
Now about the design, it is a camouflage designed crossbow scope. Adds wild, vicious outlook. Another thing to focus is its scratch resistant texture. Scratches made the scopes outside to fade sooner. Scratch resistance makes this unfortunate occurrence disappear.
No illumination is used here.
3. Hawke Crossbow 1.5-5X32 IR SR Scope with Illuminated Circles, Matte Review – Most flexible option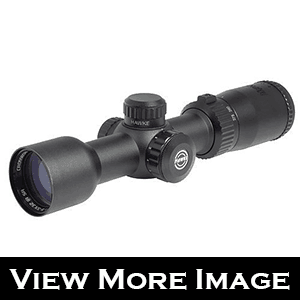 Speed selector is the best feature of this crossbow scope, making its flexibility at its best. Choose according to your suit.
The Hawke Crossbow 1.5-5X32 IR SR Scope features a speed selector which makes it possible to be matched with other bows. This makes the Hawke 1.5-5X32 IR SR one of the best scopes for a crossbow that you can get. It has 1 "optics which is fully multicoated and provides a high level of light transmission which is a lot beneficial when aiming for your target. It has red and green illumination that helps improve users reticle visibility at all times.
Hawke's precision reticle is designed to offer its users aim points at 10 yards intervals between 20 to 100 yards. While you also get a flip-up lens cover together with the crossbow scope.
Another good thing about the crossbow is it works with other crossbows. You can attach it to most of the crossbows. It is easy to use. One can easily conduct and connect.
The lens has a flip-up lens cover. It is way better than detachable cover or tied lens covers.
It costs slightly higher than the other crossbow scopes, but with more price comes more convenience here.
4. Excalibur Shadow Zone 2-4X32mm Scope Review – Lasts long with great accuracy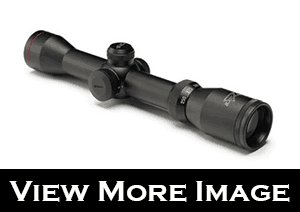 Usual crossbow scopes are known vulnerable and prawn to get wasted. If you are also a victim of this havoc, get the Excalibur shadow zone. It will be the best for you.
Designed for shooting between 250 and 350 FPS, the Excalibur Shadow Zone 2-4X32mm Scope is a great choice to consider if you wanted a more precise crossbow scope to use. Having a 1" ring will come in handy when installing the scope to your crossbow. Other than that, mounting it would be very easy and quick. The Excalibur Shadow Zone uses a 32mm objective lens while its zooming capabilities from 2X to 4X.
The ShadowZone features a multi-coated optics for glare resistance. When it comes to its low light condition settings, this particular crossbow scope has illuminated reticles. It is available in either color red or green while it also has 5 brightness settings for each color selected. Because of this, you can consider the Excalibur Shadow Zone as one of the best crossbow scopes for low light in the market right now.
It is also compatible with other crossbows.
5. Hammers 4X32CBT Illuminated Crossbow Scope with Weaver Rings Review – Affordable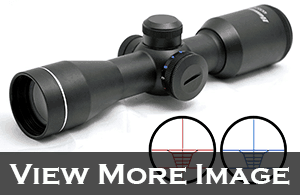 If you are looking for the best crossbow scope for the money, surely you will think that you might be limited to those that are poorly made. However, there are actually good crossbow scopes that you can get that won't hurt your budget too much.
The Hammers Illuminated Crossbow Scope is one to look at. It has a lightweight, and compact design makes it easy to use and even install on your existing crossbow. Since it also comes with mounting rings, you don't have to spend more on buying one. This Hammers Illuminated crossbow is also shockproof, waterproof and fog proof. It also has great settings when it comes to low light conditions with illuminated colors. This Hammers Illuminated Crossbow Scope is absolutely the best crossbow scope for the money.
It is very much lightweight, another plus one. Includes mounting ring, another plus one! And two illuminated colors here, where every crossbow scope lacks this feature just to increase the affordability.
Top 3 Best Red Dot Crossbow Scopes
1. BSA 30mm Red Dot Scope with 5 MOA Review – Cheap but allrounder
It is a relatively cheap red dot scope, and it does the basics perfectly. It is cheap, lightweight, solidly built, and it has a 5 MOA illuminated red dot reticle.
This 30mm Illuminated Red Dot from BSA is made of lightweight material but is built to last for a long time. It is a versatile tool that can be used for crossbows or rifles as well as perform well in both fields and at the range of shooting. Its illuminated dot reticle makes it a great sight for short range targeting in both low light and daylight. This makes it one of the best crossbow scopes for low light if you happen to be looking for that particular feature.
The BSA 30mm Red Dot Scope comes in a weatherproof housing so that you can use it well regardless the season. It has adjustable brightness levels and fully coated optics which makes the user able to see clearly even in low lights situations. The BSA scope has 1x magnification, parallax free optics as well as 1/2 MOA windage and elevation adjustments that provide reliable targeting from one to the next.
It has 11 positions for brightness rheostat. Eleven unique positions to use the brightness perfectly. The materials used to build this crossbow scope is solid and strong. Sturdy materials are used so durability won't be an issue.
It works with other types of weapons too. Aside from crossbows, it can be mounted on rifles, pistols, and shotguns too. Also, the mounting procedure is quite easy compared to other crossbow scopes.
Anyway, this scope is known to have charge issue. It is avoidable, all you have to do is to charge the scope carefully.
2. Simmons RedDot 1x 30mm 3-MOA Dot, Red/Green/Blue Illuminated Scope Review – Illuminated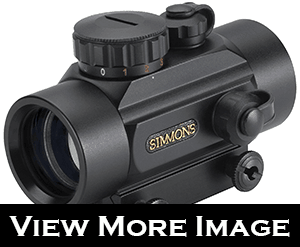 If you are a red dot crossbow scope lover only for its sweet red thin light line, illumination is the other must you want in your red dot crossbow scope, right? Here, this crossbow scope is very much illuminated with three available color – red green and blue.
The Simmons RedDot is an ultimate tool that helps shooters aim for their target quicker with a better acquisition. It has 1 x 30 Red Dot wherein the red dot sight comes in 3 illumination colors which are red, green and blue. This option will provide user better lighting solutions in different surroundings that they might be. The red dot sights of Simmons will enable shooters to recognize their targets right away even those that move quickly.
The Simmons RedDot 1x 30mm 3-MOA Dot works with virtually any firearm and offers incredibly quick target acquisition. It has a 31.4' field of view at 100 yards and a 3.75-inch eye relief. Simmons RedDot has 60" adjustment range at 100 yards with low light precision which make this red dot crossbow scope great to own.
It works with most firearms. Red dot sight crossbow scope enhances accuracy so more chance to hit the target. Faster target acquisition.
3. Truglo Red-Dot Crossbow 30Mm 3-Dot Sight Review – Strongest and durable red dot crossbow scope
Roughrider welcome here. This the sturdiest red dot crossbow scope. Do you run, crawl, crouch while hunting? Just get this crossbow scope. It is designed to take the hit.
The Truglo Red-Dot Crossbow is made of aircraft-grade aluminum for its housing and is durable for most firearms that you will be using. For crossbows, this sight would be a great choice for an upgrade and will function according to your most needs. Using the Weaver mount makes the Truglo Red-Dot easy to mount as well as easy to use.
Other features of the Truglo Red-Dot would be its multicolored lens, has a see-thru, optical quality flip-up lens cap, waterproof and fog proof. It has adjustable rheostat which is used for better brightness control. Its illumination setting knob can be turned easily while the 3 dots are perfect for shooting at diverse ranges. The Truglo is another tool that is considered best crossbow scope for the money.
Very easy to mount. Basic flicks and you are all set and ready to go. It is also priced affordably. So, counting everything, it is a nice combination of budget price, sturdiness, and convenience.
The sight image sometimes lacks contrast.
Top 2 Best Night Vision Scope for Crossbow
1.Sightmark Photon XT 4.6x42S Digital Night Vision Riflescope Review – 6 reticle styles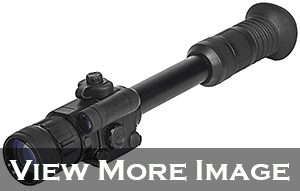 When it comes to night vision scopes, there are many brands that users can choose from. The Sightmark Photon XT 4.6x42S Digital Night Vision Riflescope provides its users higher magnification with Digital Reticle that offers an option of 6 Reticle Styles.
It is suitable for both night and day use with the high-resolution display. Sightmark Photon XT's 4.6 x magnification, large 42mm objective lens as well as higher than average 640×480 resolution provides crisp detailing for up to 120 yards. Ti also has a video output which allows video recording to document everything that is seen during the activity.
This particular night vision scope is shockproof and weatherproof; this means that users don't have to worry about it while using and just focus on what they love to do.
Pros:
6 Reticle Styles.
Video Output Enabled
longer battery life
30% lighter than other products
High-Resolution Display
2. Yukon NVRS Titanium 1.5×42 Night Vision Rifle Scope, Weaver Mount Review – Best For Durability and lightweight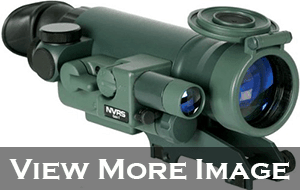 Night vision lover's top choice is described below. A durable and lightweight night vision scope for you.
Getting a night vision crossbow scope will require you to have a few knowledge on what to look for so that you'll be able to compare the options that you have. The Yukon NVRS is made of titanium body which makes it durable with a long term of use. This night vision scope is ergonomically designed for better usage and accommodating a wide range of crossbows and other firearms. Its 42mm lens provides higher resolution, especially during night hunting.
The Yukon NVRS Titanium has a powerful Pulse infrared illuminator that's built-in and can be easily activated to enhance the brightness of the images especially in total darkness. It's standard weaver rail mount system makes it easy to mount and easy to use. The Yukon NVRS Titanium is a lightweight night vision sight that has 1.5X magnification and a 20-degree field of view. It comes with a flip-up lens cover and a remote on and off switch.
It is very lightweight. If you are familiar with long hours of outdoor hunting activities, this one is for you. Made of durable titanium material.
Another good thing is its multi-coated optics. Accuracy will be improved for this.
When to use Regular Crossbow Scope, Red Dot Crossbow Scope and Night Vision Scope
Choosing the right scope for your crossbow will depend on how you want to use it and where you will use it. A regular crossbow scope is the most typical scope that you will need since it offers clarity even to the most distant target that you may have.
For the second type, a regular crossbow scope would have multiple reticles that will help track the arc of the arrow based on its distance. On the other hand, a red dot crossbow scope is most of the time smaller and would require a battery. It usually does not offer magnification, but it gives you a better sight to the target.
Lastly, use a night vision scope if you like going on an adventure to hunt at night. This particular type works well even on daylight too but has special features to better sight at darker places.
Final Words
Choosing the best crossbow scope depends on the type that you need. If you engage in a range of different activities, you may find that you want one of each kind to make sure you have the right tool in case the need arises. Some scopes are affordable while most night vision scopes for the crossbow are really expensive.
The hobby of shooting or hunting requires certain tools to give you the best experience. Once you have decided to add a crossbow scope to your toolset, all there is left to do is to find the best brand and value for your money.
Related Buyer's guides and Beasts Lists: