Apart from the 1911, it is difficult to imagine a shooting platform that has more aftermarket options than the AR. The modularity of design allows for a great many optional upgrades and the trigger to be a popular choice is hardly surprising. This is facilitated by the overwhelming majority of drop in trigger assemblies that require no gunsmithing. Of course, the wide selection can also prove somewhat daunting.
Single-Stage vs Two-Stage Triggers
Drop in triggers are available in single and double stage designs.
The advantage of a single stage is an immediate and complete "click" through trigger weight. There is no travel, only the break at a set resistance of however many pounds it is set for.
The advantage of the 2 stage is an initial take up that allows a heavier pull before the trigger releases the hammer. This is particularly appropriate for competitions where a minimum weight is required, e.g. for a 3 pound minimum, there may be a 1 pound take up to the final effort of 2 pounds. This allows focusing on the sight picture most closely ONLY on that last resistance to the pull resulting in less disturbance to the sight picture as compared to having to pull the whole 3 pounds right there at the end.
Tactical shooters may prefer the 2 stage as it gives them an ever so slight safety margin, while target shooters may prefer the single stage. This is, however, not so much a rule as an example of their uses. Each shooter develops their own preference, and many are difficult to sway from their "final" decision.
Firing Control Group Pin Sizes
It is important to note that AR receivers are known to have two different sized firing control group pins. Beginning in the early to mid 1990's Colt was encouraged to use a larger sized pin so as to be incompatible with full auto firing groups in an effort to comply with state and federal anti "assault rifle" legislation. These larger pins, approximately .170" in size were used up until the 2010's whereas virtually all other AR manufacturers remained with the mil-spec sized, .154", pins.
All six of the trigger groups presented here use the smaller pin sizes that are used in the overwhelming majority of AR style receivers.
Best Drop-In AR-15 Trigger Group – Single-Stage Comparison Table
Image
Manufacturer
Description
Made In
Stage
Price
TIMNEY
AR-15 DROP-IN TRIGGER MODULE SOLID SHOE


** Editor's Choice - Best Drop-In AR-15 Trigger Group - Single-Stage **

USA
single
RISE ARMAMENT
AR-15 SUPER SPORT TRIGGER


** Best Budget Drop-In AR-15 Trigger Group - Single-Stage **

single
CMC
AR-15 TACTICAL TRIGGER GROUP
USA
single
WILSON COMBAT
AR-15/M16 TACTICAL TRIGGER UNIT
USA
single
VELOCITY TRIGGERS
AR-15 VELOCITY TRIGGER CURVED
USA
single
PATRIOT ORDNANCE FACTORY
AR-15 DROP-IN TRIGGER
USA
single
1. TIMNEY AR-15 DROP-IN TRIGGER MODULE SOLID SHOE
** Editor's Choice – Best Drop-In AR-15 Trigger Group – Single-Stage **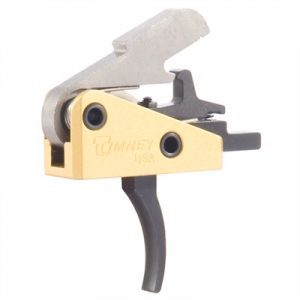 Timney offers their trigger systems at a reasonable price albeit at the higher-end of this group. Manufactured and assembled by hand in their Phoenix, Arizona facility, the drop in triggers by Timney are produced with endurance and hard use in mind: the housing is a lightweight aluminum alloy while the hammer is of tool steel to resist wear and chipping. There are three different models by pull weight – 3, 3.5 and 4 lbs – and they are all well regarded, making your rifle act more like a precision bolt action rifle than a combat tool.
The Timney line of drop in triggers use the original hammer and trigger pins – sized small – that come with your rifle with a proprietary design that resists pin walk out: this becomes a concern as the modular design does not put as much spring tension upon the pins as the mil-spec triggers. The company also offers a 100% lifetime guarantee for any defects of the item. For the price, this set up pretty much defines the quality and purpose of installing a new trigger with but one pill to swallow: its price.
2. RISE ARMAMENT AR-15 SUPER SPORT TRIGGER
** Editor's Choice – Budget Drop-In AR-15 Trigger Group – Single-Stage **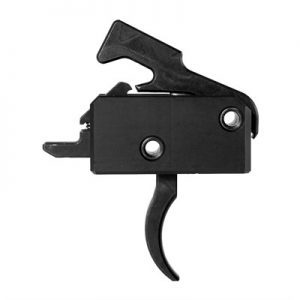 Whereas the first thing to notice about Rise Armament's one piece trigger system is the price: it is almost half that of the Timney. Rise began as a group of individuals who created a fabricating and machining outfit in the aerospace and petroleum industries who let their shooting hobby get the better of them: they built gun parts as well as a small number of complete weapon systems. Over time, the firearms portion of their production took over more capacity.
The precision Computer Numerical Control (CNC) machined trigger has a clean 3.5-pound trigger break with the trigger lines of your average AR rifle. There is little to suggest the presence of a high-quality trigger option in your rifle when it is installed. That is until the trigger is pulled. It is a no-frills design delivering without the glitzy colors of the competitors as reflected by the price. Yet their production procedures conform to the strictest aerospace manufacturing measures of AS9100. Everything about Rise Armament declares a product that prides function over form while using your rifle's original, sized small, pins.
3. CMC AR-15 TACTICAL TRIGGER GROUP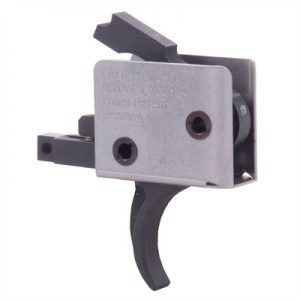 While Timney holds the title of being among the most popular name for drop in triggers, CMC claims to hold the assumption of proprietary rights over most of its competition: Mossberg has installed CMC triggers in many of their production line rifles and has filed lawsuits to that effect – that there have been property right violations by other trigger manufacturers. The court battles may take years to resolve.
Designed by world-renowned competition shooter Chip McCormick, the single stage version is available in 2, 4, 5 and 6 lbs pulls, two trigger options: curved and flat versions. Some shooters have found that the flat trigger offers more surface for the pad of the finger while others feel it gives better leverage for clearing the break weight. Each CMC trigger is reviewed at the factory to remove any take up and/or over travel and ensure maximum efficiency.
CMC has experienced production lags in the past but has also completed a recent manufacturing overhaul to maximize production quotas. The company also delivers its drop in triggers with slightly oversized pins to reduce any wiggle in the receiver and prevent the pins from walking out. This is the first of the items reviewed here that offers pin upgrades with purchase.
4. WILSON COMBAT AR-15/M16 TACTICAL TRIGGER UNIT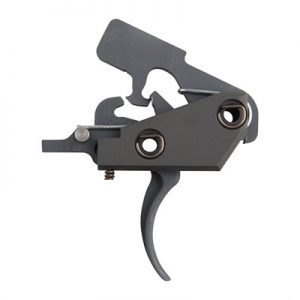 Founded in 1977, Wilson Combat claimed early on a leading role in the production of high-end custom parts for firearms, specifically for the 1911 pistol. CNC designed with back up sears in case the rifle is dropped or jarred heavily, the Wilson trigger systems meet or exceed military standards for safety and reliability. Wilson places itself at the top of the price list of the presented examples here.
There are several variants of their trigger offered in different weights running 3.5-5.75 pounds. As with all Wilson products, the goal is to provide professional shooters with a tool that delivers, under ANY if not every circumstance. That is again reflected in the cost of the units themselves. The various models cover military style to custom with short resets for rapid follow up shots.
5. VELOCITY TRIGGERS AR-15 VELOCITY TRIGGER CURVED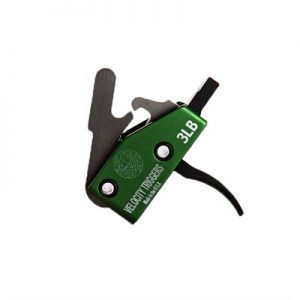 Velocity triggers are available in 3, 4 and 4.5 pound weights. Founded by Tom Vehr who began his career in the early 1980's building triggers for Timney for fifteen years before spending another thirteen years as Knight Rifle's director of trigger design. Vehr Manufacturing was begun in 2008 as a parent company of Velocity Triggers with almost three decades of experience from the leaders within the industry. These models are offered with Diamond-Like Carbon (DLC) coating to reduce friction wear.
The cost point is attractive, but the models require the purchase of separate anti-walking pins and they are not designed to be used with 9mm model carbines. Those points notwithstanding, the company is justifiably proud of offering a premium product at a price that refrains from impoverishing AR shooters. From a price point perspective, they are just over the Rise Armament offering with a non-mil-spec style trigger to show for it.
6. PATRIOT ORDNANCE FACTORY AR-15 DROP-IN TRIGGER
Patriot Ordnance Factory, or POF, was founded in 2002 by Frank DeSomma, an aerospace engineer who was intent on addressing the issues of the fouling caused by standard AR gas impingement systems. Along the way, other accessories were naturally conceived and produced with of course drop in triggers being no exception.
There are three non-adjustable, single stage trigger systems available: a standard trigger design and then the two Enhanced Finger Placement (EFP) designs. The latter allows the finger to naturally lock into the same place on the trigger for increased consistency. The difference between the EFP and EFP2 is the latter is enlarged to accommodate gloves. Pull weights are either 4 or 4.5 lbs, and triggers come standard with their own KNS Precision™ stainless steel anti-walk pins.
Selection Guide – Drop In Single Stage AR-15 Trigger
Stock triggers run the breadth from decent to crud. Many shooters count themselves lucky to score the former, especially on an entry level rifle. Still, others muddle through with less optimum, mil-spec surplus, content to have a "bang-switch" than what can be called a trigger that aids in keeping the sights on target.
Best Low Cost Option
Of the six models presented here, to those attracted to price, the Rise Armament may appear the most appealing. There is little reason to dissuade one from that selection. If a bargain build or box rifle is what you can afford, the Rise trigger system is a quality product that can certainly offer an appreciable upgrade without paying almost 50% of the rifle's cost on a part unit weighing but a few ounces. The production standards, after all, are at or above its competitors.
Best Overall
For those who are willing to pay more for a rifle, especially professionals who make a living off using their rifles for sport or security, the Wilson or Timney triggers have both the quality and name to justify their price points. If the rifle is more a mid-level entry or quality build, these triggers will certainly not be out of place. They represent the option for the shooter who buys top of the line because the top of the line delivers: the warranty says so, as does the reputation that the manufacturer has worked hard to build.
The Rest
The three middling trigger systems of this selection appear to be CMC, POF, and Velocity. Perhaps in that order. This is not to say that these products are "average," but rather to suggest they offer the best value for their pricing. CMC comes with upgraded pins and a variety of breakpoints, as does POF, while Velocity requires additional parts if one wants to upgrade the pins but is priced accordingly. As far as function, single stage triggers all share a common feature: they are better than mil-spec.
Wrap-Up
Ultimately the choice of what "is best" is a personal decision based on "feel," price, availability and often something as subjective as brand loyalty. All six products here offer a little something different from each other whether it be higher quality for cost or alternative upgrade options for a smaller price tag up front.
What is almost universal, however, is the sheer joy of recognizing the difference when trading out an albeit reliable yet gritty trigger that feels like grinding sand on a metal plate for a crisp snap of breaking glass. Once you try a drop in trigger, your greatest challenge will likely be trying to figure out how to afford to replace the triggers on every other gun in your safe.