Despite the ease and convenience of drop in triggers provided by such companies as Timney, trigger kits remain a popular choice among AR enthusiasts for several reasons.
Greater capacity for customization;
Greater adaptability for fitting into the surprising number of variations in receivers from different companies;
Ability to salvage and use the original hammer and trigger pins that came with the gun;
Perhaps most prominently – cost.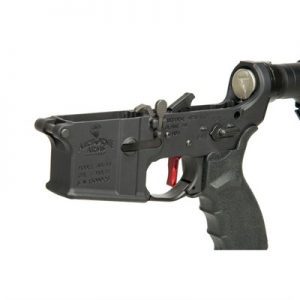 While drop in kits are modular and convenient, trigger kits are more capable of withstanding the subtle variation of the many manufacturers of AR rifles as well as the many variations in shooter preferences.  As anyone who has had a modicum of armoring experience with AR systems from more than one supplier, "mil-spec" does not always mean "standard."
Trigger kits still have the joy of fighting against the springs, certainly, but they also offer the option to smiths for fine tuning and overcoming the surprise realization that the receiver pin holes are not lined up precisely to a drop in assembly.
How To Choose
As with all things AR related, there are a great many manufacturers and options for virtually every part of the rifle.  Trigger kits are of course no exception and it is very easy to get distracted by the advertising.  As with all purchasing related, the important thing to remember is why are you doing this?  The trigger is the last thing that will be noticed at the range – for those of us who are less worried about how we shoot than how we look while shooting.  But it is the first thing that will be noticed while shooting.
These trigger kits are single stage, which means there is virtually no take up before the break.  As such they are preferred by many competitive shooters and less so by tactical shooters who need to be fast on the trigger, but also want their shots to be more deliberate and less "oops", even in stressful situations.
Best Single-Stage AR-15 Trigger Kit Comparison Table
Image
Manufacturer
Description
Made In
Stage
Price
AIRBORNE ARMS LLC
AR-15 AAGT GERONIMO TRIGGER SYSTEM


** Editor's Choice - Best Single-Stage AR-15 Trigger Kit **

USA
single
ALG DEFENSE
AR-15 ENHANCED MILITARY-STYLE TRIGGERS


** Best Budget Single-Stage AR-15 Trigger Kit **

USA
single
JARD
AR-15 AR CUSTOM TRIGGER KIT
USA
single
BRAVO COMPANY
AR-15 BCMGUNFIGHTER™ PNT TRIGGER
USA
single
GEISSELE AUTOMATICS LLC
AR-15 SSP SINGLE STAGE PRECISION TRIGGERS
USA
single
1. AIRBORNE ARMS LLC – AR-15 AAGT GERONIMO TRIGGER SYSTEM
** Editor's Choice – Best Single-Stage AR-15 Trigger Kit **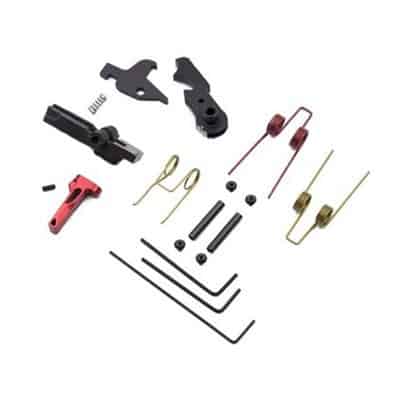 For the price, Airborne Arms offers some surprising extra features to its product not readily offered with other trigger kits: anti-walk out pins, alternative springs for pull weight as well as optional trigger shoes.  Designed and manufactured by veterans of America's airborne infantry, products from AA have the benefit of being made by and for individuals who intend to use their rifles.  A lot.  Their Modular Shooter Adaptive Trigger (MSAT) design promotes customization to the fore of the shooting experience: not everyone is the same size or is comfortable with the same pull weight, and AA recognizes that, almost to the point of excess.
Adaptability with what you have is a mantra of paratroopers who are trained to think along the lines of having to take everything they are going to need with them.  This trigger system was designed by the guys that came back and have experience with what does and does not work.  The operating parts are machined from tool steel alloy, hand ground and polished for a break as crisp as glass with optional trigger shoes that are machined from T6 aluminum – and available in black or red.  As a custom trigger kit, AA offers quite a bit to the shooter who is ready to fine tune and try different things until they find what they like.
2. ALG DEFENSE – AR-15 ENHANCED MILITARY-STYLE TRIGGERS
** Best Budget Single-Stage AR-15 Trigger Kit **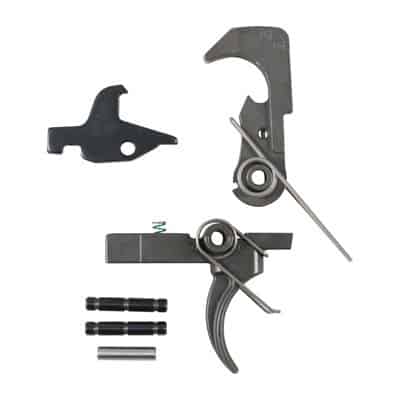 While ALG Defense may not be a well known company, the surname Geissele is.  Amy Lynn Geissele founded ALG as a sister company to Geissele in 2012 and is backed by the same research and design team as the sibling company.  ALG is a woman-owned and operated manufacturer intent not only providing the customer with unparalleled service with quality products but doing so at an affordable price.  While not a ground-up new trigger system, ALG chose not to reinvent the wheel, just polish it to make it enhanced and better.  Their trigger kit approaches the fire control group with the notion that if it isn't broke, don't fix it.
However, everything always has room for improvement.  They simply took the military standard mil-spec trigger kit and paid more attention to what it needed to remove any sense of grit and chalky take up.  But what worked was left alone.  The sear contact surface has been honed and standardized to around a 6-6.5 lb trigger pull.  Nickel boron and nickel Teflon coatings are applied to the trigger and hammer respectively to reduce friction.  The result is a fire control system that has 50 plus years of field and combat testing behind it but, as the name suggests, is enhanced for better performance that will not break the bank.
3. JARD – AR-15 AR CUSTOM TRIGGER KIT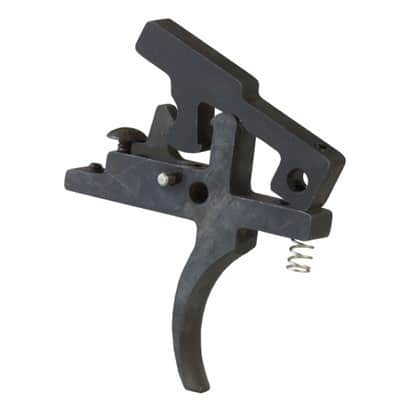 JARD is recognized as being among the first of aftermarket custom trigger kits offering smiths the opportunity to polish and stone surfaces to very specific and truly customized requirements.  Admittedly, as far as looks, their fire control system looks even more spartan in aesthetics than even a mil-spec trigger.  But the devil is in the details of the redesign: JARD relocated the sear point to behind the hammer to provide better leverage and reduced pull weight that is all but unnoticeable to the shooter.  The hammer has reduced mass also, to provide for a superior locking time.
The JARD custom trigger comes in 2, 3 and 4.5 lbs variants but each offers the customer four areas of adjustment: sear engagement, trigger over-travel, disconnector engagement and safety for the ultimate in a custom feel from the moment your finger touches the trigger to the reset for the next shot.  JARD's custom trigger kit is designed by armorers for armorers with hardened and polished engagement surfaces for a long service life providing consistent, clean breaking trigger pulls.  IF customization is what you are looking for, and you are prepared to tune it to exactly what you want, JARD is the place many start and finish.
4. BRAVO COMPANY – AR-15 BCMGUNFIGHTER™ PNT TRIGGER

Another product offering improvement upon the familiar mil-spec fire control system, Bravo Company's Polished Nickel Teflon (PNT) trigger system kit is offered in electroless nickel for additional smoothness in the breaking action of the trigger.  Maintaining the design of what does and has worked for decades, BCM pays extra attention to the finishing touches and engagement surfaces of the trigger system that came with your gun.  This is not just a flashier version of a stock trigger, however.
The nickel plating is embedded with Teflon particles for further smoothness of function after the hammer and trigger have gone through a three-step heat treating process for exceptional hardness and durability.  The goal is not to make something fancy that will not last, but something that is effective and will outlast the competition.  As a result, many shooters find that BCM's PNT price point is generally an appreciable feature when compared to other kits.  BCM is well known in circles of AR enthusiasts who are not prepared to pay thousands for a custom build yet want a reliable and proven upgrade for their AR platform.
Given that many vets opt for BCM upgrades in their personal weapon when leaving the service, it appears the company is meeting its goals.  An important note, however, BCM warns that their kit will not work in large pin (postban) Colts, only mil-spec rifles.
5. GEISSELE AUTOMATICS LLC – AR-15 SSP SINGLE STAGE PRECISION TRIGGERS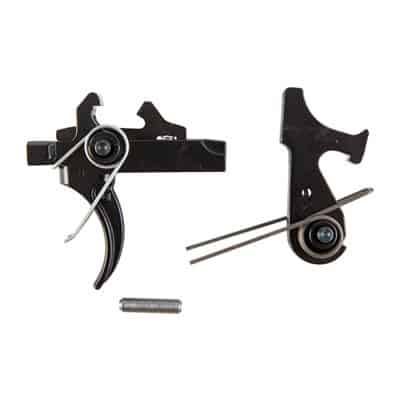 Geissele was founded in 2004 by Bill Geissele with a National Match trigger system.  In 2005, he received a request by the Department of Defense to design and build a select fire trigger with the same capabilities of the Hi Speed Match trigger.  While the Super Speed Precision does not have the select fire option, it does offer the next generation as devised by the company that is considered the top of the line in AR target systems.  The SSP single stage has no take up and an ultra-short reset that is nevertheless distinctive, making follow up shots quick and easy while completely controllable.
Installation is billed as quick and easy as each shot, whether you are retrofitting your rifle or doing a new rifle build.  It is set with a 3.5 pound pull, using top quality components that hhavemaintained the company's reputation for excellence.  Available in either curved or flat bow trigger for shooter preference. The Geissele is advertised for use by varmint hunter to 3 gun competitor to personal defense.  It is a name that has become synonymous with top of the line in AR trigger systems, and while priced at a point that begs the question why, the satisfaction of shooters who have experienced it usually gives the answer.
Making The Decision – AR-15 Single Stage Trigger Kits
The SSP by Geissele is billed as the premium and best of the trigger kits, offering variances that drop in triggers cannot hope with which to compete.  The price point, however, can be somewhat daunting to many shooters.  The SSP is an offering to those who simply will not accept any substitutes, and the bank account to support such endeavors.
JARD offers the most in customization, especially to a smith or armorer who know what they are doing.  At a price point that is on par with other good trigger kits, JARD has, when installed by experienced hands with a specific vision in mind, the ability to outperform any other trigger system when a truly custom feel is desired.  In other words, it is a perfect block of marble for an artist to bring out a true work of art.
Airborne Arms offers a wonderfully versatile product that one does not have to be skilled with honing tools to fully appreciate and tweak fine performance out of.  While the price point may be close to a great many drop in kits out there, the point, again, is for the shooter to adjust to their specific needs or desires.  AA brings many supporting parts to the table to meet those variances, and to be honest, the set of anti-walk out pins is a pleasant addition: it is rare for stock pins to wander, but when they do, an embarrassing day at the range is the only good result.  All other results are considerably less amusing.
ALG and BCM round out the selection presented here.  They are essentially maxed out as far as possible enhancements upon the stock design.  That makes them wonderfully affordable, as far as single stage trigger kits go, and again, the design has been literally battle tested for over five decades.  In so far as reliability is concerned, it is really very difficult to find a better benchmark.  Are they as flashy as the other custom kits? Certainly not.
Wrap-Up
There is a certain lack of a custom feel in appearance, but that is more than balanced by the certainty of function.  What matters most is the competency of the "nut behind any trigger."  That is the shooter.  Decide for yourself what you need, what you can afford, and most importantly, what you like.  If you like it, you will use it, and you will improve.  It is still more than any other piece of equipment that puts shots on target.