Reloading your own ammunition is an economical choice especially if you find yourself expending hundreds and even thousands of rounds for the hobby. Reloading presses are the main tool to help you manage the cost of frequently firing your guns. However, having a reloading press is not the only thing that you need to invest in. There are in fact other accessories and tools that you must own to ensure that you will be able to produce quality ammo.
One of the simplest as well as the cheapest tools that you will need would be a bullet puller. In some cases you have to disassemble some of your ammunition, whether you got the wrong load or any other reasons that it can't be used, a bullet puller is what you need to do the job.
Types of Bullet Pullers
There are 2 common types of bullet pulling; these are the kinetic bullet puller and the one that uses dies and collets that are installed in a reloading press. The kinetic type is the hammer type wherein you use a collet to hold the case and lock it with the cap. You then hammer it to a hardwood or concrete floor until the bullet and powder is separated from the case.
On the other hand, using your existing reloading press works the other way around. The bullet puller which looks like an ordinary die has a collet inside that holds the bullet itself. At the pull of the lever, you make sure that the bullet gets in the die and is held firmly by the collet. Another stroke of the lever will pull the case with the powder still intact inside. Either way, they are both safe to use when done properly and with caution.
Top 3 Best Bullet Pullers
1. Quick-n-EZ Impact Bullet Puller Review
The Quick-n-EZ Impact Bullet Puller is an impact style type of tool or what is usually called the hammer type. This bullet puller comes with 3 different sizes of the collet that could handle calibers ranging from a 22 Hornet to a 45 – 70. This means that it works on most calibers that you may already own and no need to purchase an extra.The Quick-n-EZ also works on both rimmed and rimless bullets which make it a versatile tool. Just make a firm strike on a hard surface and have your bullets disassembled in no time.
Important Features
Comes with 3 collets
Hammer type bullet puller
Versatile tool
2. Lyman Magnum Inertia Bullet Puller Review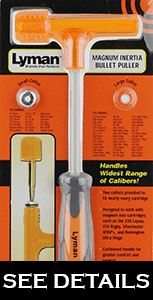 When it comes to choosing the brands, Lyman has been one of the most trusted names when it comes to reloading. This bullet puller from Lyman will still not fail you for its durability and functionality. Its head is made to be compatible on different calibers from the 5.7 x 28FN up to the largest ones. Its ergonomic handle also ensures comfort and better grip compared to others.The design prevents any damage to the bullet as well as the case; making sure that it only separate the main components and still be able to use them after properly.
Important Features
No Fabric
Ergonomic handle
Requires only a few strikes to disassemble the bullet
Pros
Affordable
Made of quality material
Easy to use
3. Hornady Cam-Lock Bullet Puller Review
Using a bullet puller with your reloading press is another way of disassembling the parts. With the Hornady Cam-Lock Bullet Puller, simply place it on the turret or the one that usually holds your reloading dies. Place your loaded shell on the shell holder and pull the lever as usual. Lower the Cam-Lock handle to have a firm grip on the bullet. Lower the ram afterward to pull the shell from the bullet.This bullet puller is also easy to operate and maintains the powder inside the shell which makes it easier to empty or just place a new bullet after the necessary adjustments.
Important Features

To be used with a reloading press
Collets included
Cam-Lock technology
Heavy duty
Pros
Easy to use
No powder spills
No damage to the bullet
Cons
More expensive than the others
Requires a reloading press for it to be used
Buying Guide - Bullet Puller
Choosing the best bullet puller may require you to be able to try out some or get some recommendations from existing users. Nevertheless, considering the quality of materials used is also necessary. For hammer types, choose that one that's designed for long time use and should be durable. You will be striking with this tool for a lot of times and you don't want to be buying a new one every now and then if it's poorly made.
All the same, choosing a bullet puller for reloading presses must be easy to handle while collets should be made sturdy. This is the part that holds the bullet firmly while still making sure it doesn't damage it as well.
How to use a Bullet Puller
Reloading Cartridges: What Is a Bullet Puller & How Do You Use It?
Importance of a Bullet Puller
Using a bullet puller is important to remove the bullet from a cartridge that is supposed to be ready for use. There are different reasons why it should be done and here are some of them.
You think that you made a mistake when loading your shell with the right powder or even the amount of powder.
You have some old military bullets which you suspect that might not be in a good condition to be used anymore.
You have bullets that may have been exposed to too much heat which may have an impact to its accuracy when fired.
You discovered that your bullets were soaked in water which may lead to the powder getting wet.
With that said, it is necessary to ensure safety first rather than to be sorry. If you have a gut feeling that something is not right or the condition of the bullet is not at its best then pulling the bullet, for at least a sample, is recommended.
Final Verdict
A bullet puller may look and work simple but it plays a major role in the reloading process. It is a must-have for all reloaders as you will never know when you will need it for the reloading job. Hammer types are quite affordable but can still deliver for its purpose. This means that either of the two types is effective for bullet pulling and it's just a matter of which you prefer to use.