If you are looking for a crossbow that would fit your budget, it would require some good amount of your time reading and do some research to get the best out of your buck. Although you will often find expensive models or brands in the market, there are still a wide selection of best crossbow under 500.
In this review, we will be providing you with some of the best in this category and give you the right information that you need to get the right crossbow for your needs.
The 6 Best Crossbow Under 500 in 2017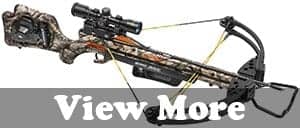 One of the first things to consider when looking for the best crossbow under 500 would be its durability. The Wicked Ridge by TenPoint Invader G3 Crossbow has a great design and is quite a performer especially when doing practice field.
It weighs only 6.6 pounds which make it a lightweight crossbow and easy to handle as well. What makes each draw smooth and easy would be its energy wheel. This makes the user maximize the performance of their crossbow and makes the shooting experience even better.
As soon as you decide to get your own TenPoint Invader G3 Crossbow, you will realize that assembling it is very easy. You will also receive an informative and easy to follow instruction guide to ensure that you are doing the right thing. The Wicked Ridge Invader G3 also includes an adjustable 3 dot scope that makes hunting even more effective.
And as much as you wanted to enjoy your crossbow, every user must always see to it that their safety is always a priority. The Invader G3 designed their crossbow for users to keep their hands under the string which also promotes less weight on the stock.
To ensure that your crossbow will always maintain its best performance as well as the accuracy. It's dry fire inhibitor helps prevent getting costly damages to it by not firing unless an arrow is in position.
Pros
ACU 52 Rope-Sucking system
Dry Fire Inhibitor
3x Multi-Line Scope
Lightweight
Shoots up to 330 FPS
Cons
The scope that is included is not illuminated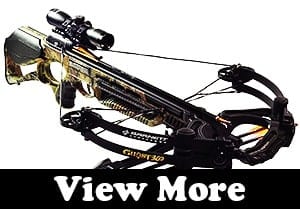 Choosing your crossbow, whether it's your first or just needed an upgrade, must have the qualities that you are looking for. The Barnett Outdoors Ghost 360 CRT Crossbow has aluminum machined riser which ensures that every arrow released is done quickly and smoothly.  It has a maximum velocity of 360 fps so users can easily keep up with their moving targets.
The Barnett Ghost 360 CRT weighs 7 pounds, this makes handling the crossbow easier and makes it possible to carry just about anywhere. With its quality materials used to build the crossbow, users can feel safe that this particular product will be able to last for years. This particular crossbow also features 5-1 safety system as well as trigger system which is also available in other products from Barnett.
For safety purposes, the Ghost 360 also features anti-dry fire trigger that will prevent the crossbow from releasing unless an arrow is in its proper place. This also avoids any possible damage to the crossbow to make it last longer. Another great feature that you will also find interesting about the Barnett Ghost 360 CRT is its camouflage design which makes it ideal especially when doing extreme outdoor hunting.
Pros
Lightweight crossbow
Powerful and dependable
Features 5 in 1 safety firing system
Cons
The scope may not be very reliable at times
Crossbows, no matter how interesting and addicting it may be as a hobby, it is still considered to be dangerous especially in the hands of a beginner, children and even seasoned users who may forget to prioritize their safety. With that said, the CenterPoint Sniper 370 have this matter well though off to ensure that their users will be able to enjoy its performance while keeping safe all the time.
The CenterPoint Sniper 370 crossbow has an anti-dry fire mechanism and automatic safety. It also uses CNC-machined aluminum on its rail. Its integrated string suppressors keep the crossbow's noise down together with its vibration. When it comes to its accuracy, this particular CenterPoint crossbow has 370 fps measurement with a kinetic speed of more than 120ft – lbs. This means that this machine can provide you with a great performance as soon as you can set it up right.
This crossbow also comes with an illuminated scope, which maximizes its performance to make you shots achieve more accurate. It weights less than 8 pounds and measures 36.5 inches long. You may also find the shoulder sling more comfortable to use with your crossbow as it also comes in the package.
The CenterPoint Sniper 370 is made of lightweight and durable aluminum CNC-machined rail; its limbs are made of fiberglass while the rest are made of composite materials.
Pros
Has illuminated scope
370 feet per second
Compact and lightweight
Cons
Instruction guide are not so easy to follow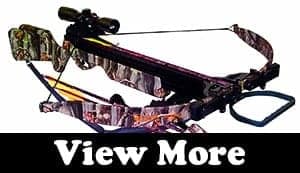 Recurve crossbows are somewhat easier to reload. It also has similar features that some users look for when considering both types of crossbows. This type is also easier to restring while assembling it would also take only a few minutes. The Precision Inferno Wildfire II Precision Recurve Crossbow also ensures safety for its users as the fore-grip is kept low enough to provide protection to the user.
The quiver mount of this crossbow also attaches securely. Its Anti-Dry-Fire feature engages the safety and automatically as the crossbow gets cocked due to not sealing the arrow in the flight rail properly.
One of the main features of the Precision Inferno Wildfire II Precision, which also makes it one of the best crossbow under 500, is its illuminated scope which offers its users the option to choose between red or green reticles, this can also be adjusted for 20, 30, 40, and 50 yards. You will also get 4 Arrow Precision carbon arrows together with the crossbow which you can use for hunting.
The particular crossbow has a shooting speed of 345 fps or feet per second while its kinetic energy produced is just about 107 feet-lbs. with these features, this crossbow makes one of the best choices that you can have that falls into the category of below $500.
Pros
Easy to assemble and use
Comes in a complete package
Accurate scope
Powerful and made of quality materials
Cons
A bit heavier than others in the same category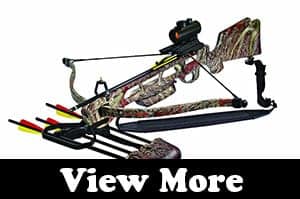 For some people, starting the hobby of crossbow shooting comes with a huge price tag and that it would eat up much of their planned budget. However, for the Arrow Precision Inferno Fury Crossbow Kit, this is not the case. Among the crossbows that we have on this list, you'll find this specific item affordable yet still being able to compete with the other brands that may even cost double.
The Arrow Precision Inferno Fury Crossbow Kit is made of quality materials such as compression fiberglass for its limbs, lightweight composite for its rear stock and aluminum for the truck material. This recurve crossbow weighs 4.84 pounds, 27 inches for the width and a string length of 26.5 inches.
Other features that you will find very useful would be that it includes four 16 inches fiberglass bolts, 3 red dot sight, rope cocking device, a foot brace as well as basic arm guide. All this put together will allow any user, especially beginners to maximize their performance and further develop their skills. The Arrow Precision Inferno Fury Crossbow Kit comes with one year warranty and has 235 feet per second.
Pros
Affordable price
Best for beginners
Easy to use and assemble
One year warranty
235 fps
Cons
Slower than other crossbows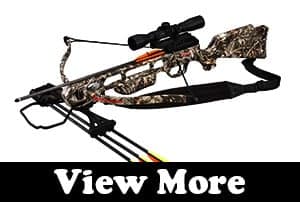 The SA Sports Fever Crossbow Package 543 is extremely lightweight. It weighs less than 5 pounds which makes it easy to bring anywhere. Setting up this crossbow is also easy, starting with the limb protectors then the foot stirrup and the rest will just follow. It shoots arrows at 240 feet per second, about 51 ft. lbs. of kinetic energy.
With that said, one may find this particular crossbow with less performance that the other brands but with its unbeatable low price, it can be easily considered as one of the best crossbow under 500 if you are looking for your first equipment.
Using its rope-cocking device, users will have no problems cocking the SA Sports Fever Crossbow. And since it is a recurve type, it will pull back smoothly which is great. Its anti dry fire feature also works great for ensuring safety to its users. It includes a 4×32 Multi-Range scope with nice optics and a fine fog protection.
Since it doesn't have illumination, the SA Sports Fever Crossbow is recommended for daylight shooting or hunting.
Pros
Recommended for starters
Very affordable
The package includes all the things that you will need to start using it
Comes with safety features
Cons
Bolts included are made with poor quality
Not very reliable for professional hunting
Recurve Crossbow vs. Compound Crossbow
There are primarily 2 types of crossbows that you can choose from if you are planning to buy one anytime soon. The best crossbow under 500 is not necessarily a recurve or a compound type but should be the one that works for you best. To make a better selection, knowing the difference of the two helps a lot in deciding which one you should get.
A compound crossbow features a cam system that makes the drawing of the bow easy for its users. It has shorter limbs and tends to be much stronger than the other type. Cocking is also done easier with a compound crossbow, and as it shoots faster and at lower draw heights, several users find it more reliable to own than the recurve type. There are various types of compound crossbows are available in the market and prices also differ a lot.
However, it's also important to know that this particular type of crossbow would also require more maintenance as it has several moving parts. And since most of its weight is at the front, it also tends to be heavier than the other.
On the other hand, considering a recurve crossbow won't mean you are choosing a less quality of crossbow. Both have their great features while they also have a few disadvantages to consider. A recurve crossbow has a wider design compared to a compound type. This type is usually lighter which makes aiming at your target easier and quicker. A recurve crossbow also features less moving parts which make it easier to maintain. It also has less noise compared to a compound crossbow, but the difference is not that far.
Between the two, it wouldn't be easy to say which one is better that the other as different people have different features that they are looking for. You may want to consider the weight, accuracy, design as well as the price to narrow down your choices, this way you will be able to get the type of crossbow that would be able to deliver your needs.
Final Words
The hobby of crossbow shooting may not at all be too expensive if you would consider some models that are not too pricey but still able to have the features that you are looking for. This best crossbow under 500 list aims to help you get better recommendations by showing some of the great features that it can offer you and more or less set a realistic budget when you have already decided to buy. Just remember to spend some time comparing and surely you'' be able to find the best crossbow for yourself!