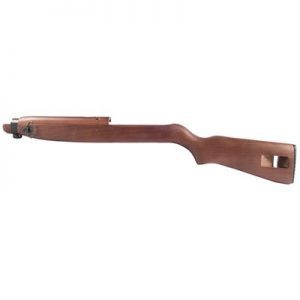 Settle down folks, we have a lot of decisions to make. If you are in the market to dress up your old 10/22 with a new stock, boy do you have options! Each of these options is going to take some serious consideration about your wants and needs if you are going to get it right.
When it comes to really dressing up a gun and adding a new look and feel, there is nothing like a stock replacement. Whether its wood or poly, match or tactical, adding a new stock to rifle is a sure-fire way to renew its place in your collection or maybe just suit your needs a little better.
Choices
There are stocks for just about anyone out there and since almost everyone has a 10/22 these days, the list of choices grows longer each year. If you want something to turn that .22 into a tack driver, there is a stock for you. If you are smaller statured or this is a kids first gun, you have so many choices. Maybe you just want your 10/22 to look like a modern tactical masterpiece, there are stocks for that too!
The below offerings from Tactical Solutions, Hogue, Magpul, West One, and Wood Plus are sure to give you some idea of the direction you should be heading. So, get out that old Ruger and dust her off a bit. Let's look at what we can do to give her a new lease on life.
Best Ruger 10/22 Stock Comparison Table
Image
Manufacturer
Description
Made In
Price
WEST ONE PRODUCTS LLC
RUGER 10/22 USGI STOCK M1


** Editor's Choice - Best Ruger 10/22 Stock **

USA
TACTICAL SOLUTIONS, LLC
RUGER 10/22 STOCK THUMBHOLE


** Best Ruger 10/22 Stock - For Accuracy **

USA
WOOD PLUS
RUGER 10/22 STANDARD YOUTH STOCK SPORTER


** Best Ruger 10/22 Stock - For Youth or Small Size **

USA
HOGUE
RUGER 10/22 STOCK SPORTER
USA
HIGH TOWER ARMORY
RUGER 10/22 STOCK BULLPUP
USA
HOGUE
RUGER 10/22 RUBBER COVERED STOCK .920 BULL BARREL
USA
MAGPUL
RUGER 10/22 HUNTER X-22 STOCK ADJUSTABLE
USA
1. WEST ONE PRODUCTS LLC – RUGER 10/22 USGI STOCK M1
** Editor's Choice – Best Ruger 10/22 Stock – CLASSIC **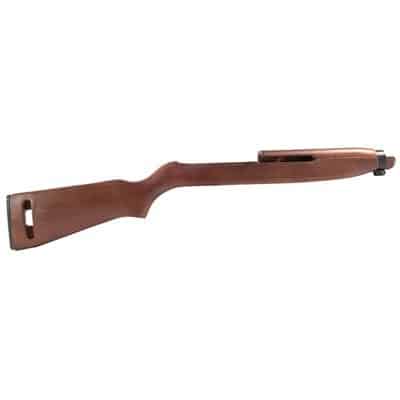 If  you are a classier sort of guy that likes clean lines and a warm wooden stock. Maybe something with a little culture and history behind it. West One was thinking of you!
I dearly love the M1 platform and always have. But a good M1 is hard to come by and expensive to shoot. If you are like me and want that feel but don't want to drag an antique out in the field to do a little plinking, boy does this stock fit the bill!
It may not be loaded with features, neither was the M1, but it is loaded with character and will still turn a head or two in the right crowd. Just drop in the 10/22 barrel and action and take this beautiful reproduction out for a little range time. The feel of wood and steel will give you the serenity to shoot your best without all those pillar beddings and flashy options.
2. TACTICAL SOLUTIONS, LLC – RUGER 10/22 STOCK THUMBHOLE
** Editor's Choice – Best Ruger 10/22 Stock – Accuracy **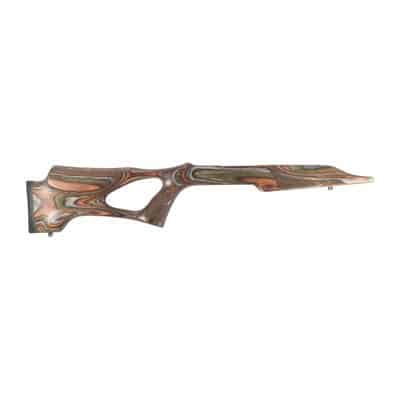 If you are into match shooting and the Hogue just doesn't have the features you are looking for? Maybe take a look at the Tactical Solutions thumbhole stock which I bet has everything you need and more! They packed this thing to the gills with features that are really going to make a difference on the range!
Firstly, and this can't be emphasized enough, they have pre-pillar bedded the stock! From the factory! Steel pillars lock everything down and rid you of any of the POA issues common to wooden stocks. This stock is an engineering marvel that is set up to work perfectly with the barrel harmonics of the 10/22 just to tighten those groups up a little bit more.
With the Tactical Solutions, you also get all the ergonomics you could ever want! The cheek piece is perfectly placed and angled just right, the comb sits at just the right height and the forend is stable and flat to sit well on a bench or sandbag. If this is your niche, Tactical Solutions is a fine choice and is still a no gunsmithing required, drop in option.
3. WOOD PLUS – RUGER 10/22 STANDARD YOUTH STOCK SPORTER
** Editor's Choice – Best Ruger 10/22 Stock – Youth or Small Size **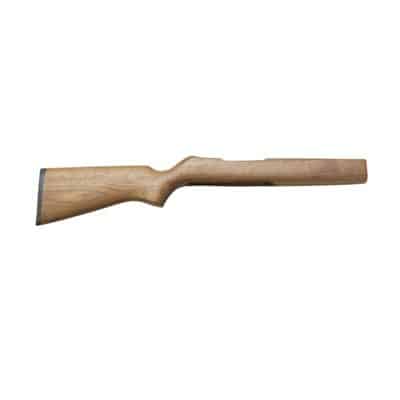 If your issue with your rifle is size, this is about the best product out there to address your needs. If this is a gun intended for a woman, child, or just one that needs to be a bit more maneuverable, the Wood Plus stock will do just that!
With a two and a quarter inch shorter length of pull than a standard 10/22, the Wood Plus Sporter is designed to have the feel, fit, and function of the factory standard stock. Everything is sized down to make a great first rifle. The smaller size and well-designed cheekpiece encourage proper form, sighting, and grip. Add a little education in properly supported stance and our next generation of shooters will have a solid foundation!
No need for any gunsmithing work with this simple stock. Remove a couple of bolts, drop in the action, and tighten it down. Fitting is a snap and should take all of two minutes to have that rifle up and shooting again. This stock is designed to fit the standard factory barrel, no bull barrel options here.
4. HOGUE – RUGER 10/22 STOCK SPORTER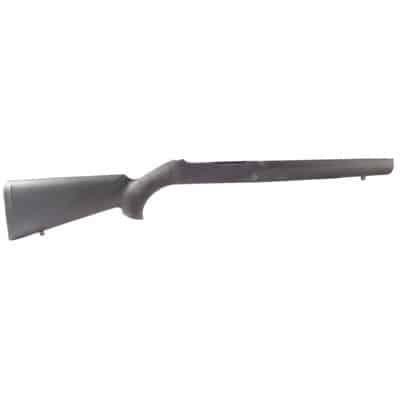 I remember slapping some Hogue grips on a revolver decades ago and loving the secure, tactile feel. They have only gotten better! The first Hogue offering on this list is for your standard 10/22 and not the target models.
This stock is really designed more for the hunter and outdoorsman with all the styling and fit of a hunting rifle. But Hogue goes beyond the standard when it comes to the amazing texture and feel of its over molded stock series. If you have never felt one, I promise if you pick one up, you will be sold immediately. There is really nothing like it on the market elsewhere. I love wood's warmth, but poly has its place and Hogue has what may be the best poly stock on the market!
Designed to fit the standard Ruger barrel profile, the Hogue stock offers the expected drop in fit without the need for any refit or smithing work. The pebbling on the grip surface offers amazing control of the rifle no matter the conditions and the molded fiberglass shell can take all the abuse you could possibly manage to do to the poor thing. The fit and finish on these stocks are really something to praise, Hogue may make the most comfortable stock on the market.
5. HOGUE – RUGER 10/22 RUBBER COVERED STOCK .920 BULL BARREL
So, what if you were sold on the Hogue above but you have a bull barrel rifle? Hogue has you covered! While this is virtually the same stock there are a couple of notable differences. Along with all of the comfort and function of the original Hogue, the bull barrel option is a bit longer and slightly heavier than the standard to support the added weight at the front of the gun.
A bull barreled gun really excels at match shooting and having the extra length and rigidity comes in handy when shooting from a rested position. As with the standard model, the bull barrel variant has all the comfort you need and a nice feel to the cheek rest when shooting, especially if shooting from a higher cheek weld for a scope.
6. MAGPUL – RUGER 10/22 HUNTER X-22 STOCK ADJUSTABLE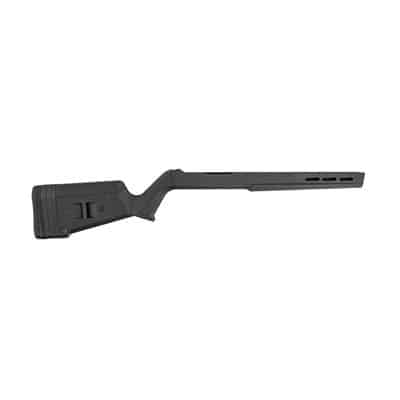 Maybe you are the common man who likes a little range competition but also likes to take a 10/22 out in the woods to bag a few squirrels. Is there a middle ground for you? Sure there is, and by a firearms industry leader no less!
Magpul always produces great products that are designed to last, well-engineered and pretty cost effective. The Hunter X-22 is no exception. The feel of this stock is great and you can just imagine the difference it will make when you first pick it up. The grip angle is just right and the balance and feel at the support position are such an improvement of the factory stock that you won't even recognize your own gun.
This stock packs in the features from an adjustable length of pull to the patented M-lock accessory system, you can be pretty sure this stock will fit the shooter no matter their size or rifle setup. Like all of the other options above, this stock is just a drop in fit but unlike the other options, the X-22 will fit either a standard or bull barrel. Take this hunting or take it to the next .22 match, it will shoot like it belongs there.
7. HIGH TOWER ARMORY – RUGER 10/22 STOCK BULLPUP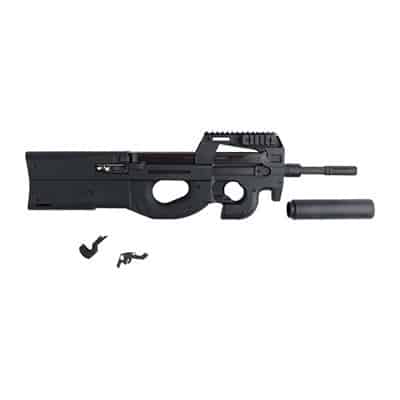 What? Did I miss my mark? Were you really wanting something unique? Something to make people wonder what the heck kind of gun you have there? Let me sort you out real quick with what is a sure-fire bet to take care of your every desire!
Let's look to the future! The High Tower 10/22 stock is modeled after the P90 by FN Herstal and when you first see it, take a second and try to figure out how they fit that lowly 10/22 into that space age frame. But they did, and they did it with a factory fitted aluminum bedding block just to thumb their noses at match grade stock manufacturers.
The list of features on this stock is staggering and frankly too long to go into depth here. But a summary would be: top and side rails, extended safety, automatic bolt release, improved mag release, on board ammo storage box, brass deflector for left hand shooters, and a trigger linkage system so technical you need an engineering degree to understand it. It even comes with a false suppressor just to wow the gun range gurus even more.
WHICH STOCK IS BEST FOR YOU

Oh, the things to consider when choosing a stock. Nothing is more personal to the fit and feel of a gun than where it comes in contact with the shooter. Every single feature makes a big difference and without trying all of them out, it will be a tall order to pick the absolute best. Still, we will see if we can ease the process some.
Usually, when you start looking at comparing products, you start with price. But that isn't really an issue here. Starting at $75.00 for the Hogue stocks and going up to $200.00 for the Tactical Solutions, most of these stocks are pretty affordable. The High Tower Armory bullpup is an outlier in the $300 range but let's face it, if that's the stock you really want, there is no competition here.
If we first look at shooter size, the obvious choice would be the Wood Plus youth stock but several of these options can suit smaller shooters. The West One stock has an inch shorter length of pull than a factory 10/22 and the Magpul with its adjustable pull can get down into the same range. Obviously, if you are longer limbed, the Wood Plus is going to be an issue but any of the other stocks should do fine.
Need is another big consideration. If you want to drag a rifle into the field, really the Hogue or Magpul are your best bets. The West One M1 stock would work pretty well and I wouldn't hesitate to take it on a varmint run. The Tactical Solutions is a little heavy to lug around and why in the world would you take that P90 clone out in the woods? I am sure the game warden would want to ask you some serious questions.
If you are shooting at the range, the Tactical Solutions will shoot rings around the other stocks but the Magpul is not a bad choice. I may even consider the Hogue, but I think it would really feel more at home shooting at game than paper.
If its style you are after, I think the M1 clone really wins the day but that's my preference. Both the Magpul and High Tower Armory have style for sure and the Tactical Solutions is a beautifully crafted stock.
If you want the future in your hands and nothing less than the coolest guns have a place in your collection, get out your credit card and order that damned High Tower Armory P90 because nothing else is going to make you as giddy as that will. Joking aside, it really is a fine choice.
CONCLUSION
As I said, it's a very personal choice when it comes to stocks. What works best for my needs may miss the mark entirely when it comes to what you want in a gun. That said, I love the little M1 stock. I think it's my favorite gun accessory on the market today. But if I wanted sheer accuracy, the Tactical Solutions is my choice hands down.
For anything else, I think I will take the Magpul. Not that there's anything wrong with the Hogue but the X-22 serves so many needs so well. Regardless of what you pick, your 10/22 will not be the same gun it was and that means that you just might need to get another 10/22 for your collection! And that may be the best reason to get a replacement stock!