Different shooters use different types of arrows which also require a certain kind of crossbow target. Primary considerations include ease of arrow removal, the variety of target options, durability, and price. Thus begins the challenge of finding the best crossbow target. In this article, we highlight the top crossbow targets and compare their features and price.
There are many crossbow targets available with a variety of styles and price points. Before looking at the different options first consider how you will be using your crossbow target and what features are a priority for your needs. The comparison table that follows summarizes the key points of the targets reviewed.
Best Crossbow Target Comparison Table
Image
Description
Dimensions
Type
Rating
Price
Rinehart 18 Sided Broadhead Target


** Editor's Choice - Overall Best Crossbow Target **

15x15x15 in
18 Sides
9.3
Morrell 131 Double Duty 450 FPS Field Point Archery Bag Target


** Best Value Crossbow Target **

19x19x19 in
Cube
9.0
Rinehart RhinoBlock Crossbow Target
16x16x13 in
Cube
8.8
Block Classic Archery Target
18x18x13.5 in
Cube
8.8
Morrell Super Duper Field Point Bag Archery Target
25x27x15
Bag
8.9
Hurricane Bag Archery Target
25x23x12 in
Bag
9.0
Morrell Yellow Jacket Discharge Target
10x16x8 in
Bag
8.1
Shooter Buck 3D Archery Target with Replaceable Core
37.5x10x22.8 in
Deer
8.0
GlenDel Buck 3D Archery Target with Replaceable Insert Core
31x15x17.5
Deer
8.9
Nerf Rebelle Star Shot Targeting Set
2.2x17.5x11.3 in
Round
8.8
Best Crossbow Target Reviews
1. Rinehart 18 – 1 Broadhead Target Review
** Editor's Choice – Overall Best Crossbow Target **

While the usual block crossbow target comes in cubes, this Rinehart 18 – 1 Broadhead Target makes a lot of difference by having 18 sides on it. Known for their self-healing foams, the 18 – 1 Broadhead Target also features the same material to ensure that no matter how many times you take the shot, the target will still stay intact and ready to take more shots during your practice.
The ability to transport your crossbow target is also important since some users would like to do them outdoors with their fellow shooters. Since this particular Rinehart is lightweight, it would be very easy to carry it from one place to another. It measures 15" x 15" and has multiple vivid targets printed on its outer layer so that it is easy to see even when shooting long range.
Removing the arrows from the target is an important feature to look out for in a crossbow target. And since the Rinehart 18 – 1 Broadhead can definitely provide this feature to its users, it can be considered as one of the best crossbow target for the money.
Pros
Has 18 sides
1 year warranty
Cons
Harder to remove arrows in some weather conditions
2. Morrell Double Duty 400 FPS Field Point Archery Bag Target Review
** Best Value Crossbow Target **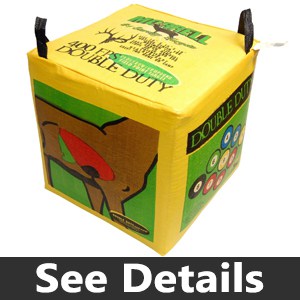 The ability to make the most accurate shots require a lot of practice; however, choosing the best crossbow target to practice it with is also essential. If you are currently new to the hobby or just wanted to make sure that your accuracy is still in its finest, the Morrell Double Duty 400 FPS Field Point Archery Bag target could be all that you ever need.
It is made of durable material that makes it stand against all types of weather which will not limit you as to when you wanted to do your shooting.
The internal structure of the Morrell Double Duty makes it possible to remove the arrows easily without damaging the foam. It also provides enough strength to put a stop on the arrows of up to 400 fps. Clearly, this crossbow target is a one of the best that you can get in the market.
The Morrell Double Duty has many target options to help you improve on your aim as well as accuracy. The pool ball and the dart board design make it a fun way of doing your practice especially with your friends. And since it is also one of the most affordable in the market, this crossbow target clearly is a great choice!
Pros
E-Z Tote carry handle for easy handling
Up to 400 fps
Cons
Recommended for field point only
3. Rinehart RhinoBlock Target Review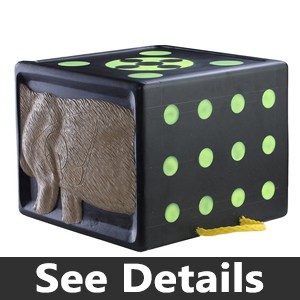 Continuous practice is a must to ensure that you always hit your targets, especially during the hunting season. The Rinehart RhinoBlock Target is a foam block type of target that can help you hone your skills while providing you a durable target. All six sides of the Rinehart RhinoBlock Target can be used during practice.
It provides its users 3 different ways to work on their shot. The large targets are best for holding aim; the smaller targets are for arrow placements while you also get a 3D vital zone which develops accuracy.
Rinehart RhinoBlock Target is known for its self-healing foams which makes it possible to take many shots and not worrying about its integrity or damaging its original shape. It's also a great tool to use as it can work with different types of arrows such as field points, expandable points as well as broadheads.
This particular crossbow target also includes mounting holes so that you can easily elevate the target as well as replacement target inserts which helps prolong its life.
And lastly, the Rinehart RhinoBlock Target only weighs 22 pounds which makes it easy to bring anywhere you may want to take your practice which makes it the best crossbow target in the market right now.
Pros
Rinehart's legendary "self-healing" foam
Includes 2 sides of 3-D deer vital zones
4. The Block Classic Archery Target Review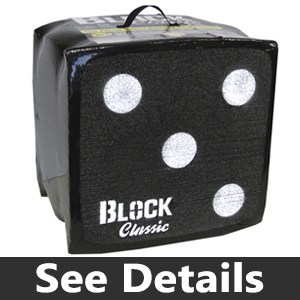 The hobby of doing crossbow is a great outdoor activity whether you are doing it for a hobby or maybe for a particular competition. For most hobbyists, having their own trusted crossbow target helps a lot in developing their skills and being able to practice whenever they need to.
The Block Classic Archery Target is made of layered form that makes removing of the arrow easily done.  Shooters using broadheads will also find it easy to pull them off without worrying about damaging the bolts. While it also works with others such as field points and mechanical broadheads.
This particular crossbow target comes in 2 sizes, the 18″ which has 18" x 18″ x 14″ measurement while the other is 20″ x 20″ x 14″.
Pros
Easy to remove arrows
Works well with broadheads
5. Morrell Super Duper Field Point Archery Bag Target Review
Bag target is best for use specifically when you are using field points. Most of them tend to be cheaper than most block targets while it is not always the case. The Morrell Super Duper Field Point Archery Bag Target is an excellent choice when it comes to crossbow targets.
These filled bags can stop crossbows arrows and compound bows for up to 350 fps. It also comes with a 2-year warranty and is weatherproof. This means you can use the bag target for most indoor and outdoor practicing.
It also comes with a tote handle for carrying the back if you wish to bring it anywhere. While the most important feature to look out for which is removing the arrows easily is also what it offers best. It weighs around 30 pounds and measures 25 x 27 x 15 inches.
Pros
Comes with 2 years of warranty
Weatherproof
Cons
Not recommended for shooting too many arrows
6. Field Logic Hurricane Archery Bag Target H25 Review
The Field Logic Hurricane Archery Bag Target H25 has a Tri-Core Technology that provides longer life to the bag target. The front design which looks like an eye makes the target easier to be seen even when practicing on a longer shooting range.
On the other side of the bag shows deer-vitals to be able to practice a more accurate shot when it's time for the hunting season.
This bag target has a heavy duty handle designed for carrying the bag to different places whether indoor or outdoor. While it is only suitable for using field points, users are guaranteed to be able to remove arrows easily and without causing any unnecessary damage to the bag target.
Pros
Easy to see the target
Heavy duty handle for moving the bag
Cons
A bit expensive compared to similar types
7. Morrell Yellow Jacket Crossbow Discharge Field Point Archery Bag Target Review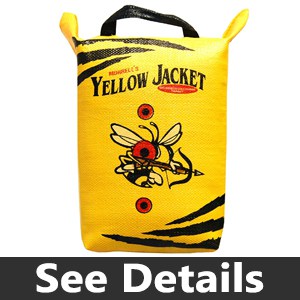 Most bag crossbow targets are bigger compared to block targets. More often than not, they are a bit harder to move into different locations as they tend to weigh heavier as well.
However, there are some in the market that provides both the experience of a bag crossbow target as well the portability of a block crossbow target.
Morrell Yellow Jacket Crossbow Discharge Field Point Archery Bag Target is a smaller version of bag targets and still offers the best features of what you can get from the bigger ones. Its compact design makes it easy to travel with especially that it has a sturdy handle used for carrying it.
Removing your arrows is still made simple while you can depend on it putting a stop to your arrows even with repeated use. The Morrell Yellow Jacket is also considered to be one of the best crossbow targets due to its price and great service.
Cons
The staples were poorly made
8. Field Logic Shooter Buck 3D Archery Target 71600 Review
Choosing a 3D crossbow target does a lot of help not only for beginners but also for the seasoned shooters. Unlike other types of bag and blocks, most 3D targets come in the form of a deer or any other animals.
This provides a more efficient way of aiming for your target and even tests your crossbow for its performance. Field Logic's Shooter 3D Buck Archery Target also features a 25% more insert compared to other models while it is also replaceable.
It works with a field point, broadheads, and mechanical broadheads. It also promotes easy extraction of the arrow by using just one hand. It measures 31 inches in height which makes it visible when practicing outdoors.
The legs are also removable for portability while you can always make sure to be able to do your practice in any kinds of weather making it the best crossbow target in its category.
Pros
Removable legs
Replaceable closed-cell compression insert
9. Field Logic Glendel Buck 3D Archery Target 71000 Review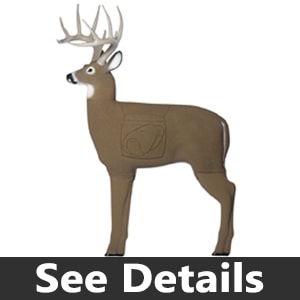 Durability is what the Field Logic Glendel Buck 3D Archery Target 71000 has to offer its shooters. It measures 34 inches on its shoulders which is about the size of a 200 lb buck.
It features a 4 sided PolyFusion core which is wide enough when practicing your skills as well as offering a longer time of use compared to other brands.
The materials used in the Field Logic Glendel Buck 3D makes arrow removal easy while still making it efficient when it comes to stopping field points, broadheads as well as expendables.
3D crossbow targets have been proven to be effective in improving one's skills as well as familiarizing with their crossbows. This is also a great tool especially when the season of hunting is about to start.
Pros
34 inches in shoulder height
4 sided PolyFusion core
Cons
Some issues with its stability
10. Nerf Rebelle Star Shot Targeting Set Review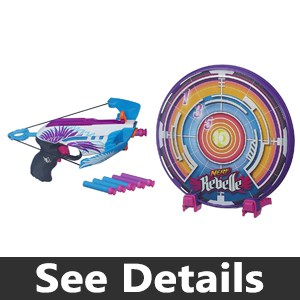 On the other hand, you may want to consider practicing at home with the Nerf Rebelle Star Shot Targeting Set. Although it is not like the ones that most professionals use when developing their skills.
This Nerf Rebelle will also help you hone your ability to control your aiming. It would also be a great gadget for the younger beginners as they will be able to improve as well without worrying about making them use real crossbow arrows.
This product Includes 6 suction-cup darts that comes in 2 colors which is ideal if you are playing with an opponent.  This is a complete set as it comes with the crossbow blaster, target, and the instructions.
You can also purchase additional suction-cup darts for a longer time of practicing.
Pros
Best for practicing basic skills
Even the kids can join
Cons
Not comparable to the real crossbow
Homemade crossbow target, are they really worth the effort?
Some people want to make their targets to practice their shooting skills. In fact, you will find a good amount of help if ever you wanted to start making one for yourself. However, the question is if they can provide good quality and value (considering time and materials) over those that you can get in the market.
Although they are most of the time cheaper, there are also some affordable bag, block and 3D crossbow targets that you can start with. Straw bales are common, but as they get wet, they become heavier and fall apart. Those considering Styrofoam Boards should be aware that arrows tend to quickly degrade the target.
Final Words
The list provided here was selected for their features, price, and ease of use when it comes to providing the best experience during practice and not damaging your arrows. For those still unsure, the 2 Editor's Choices are excellent options to give a try.