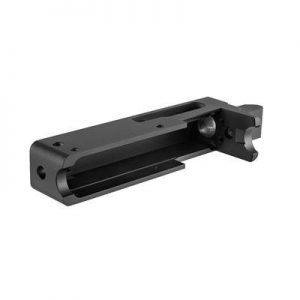 We all know a rifle is just the sum of its parts and in total, a Ruger 10/22 is a fine firearm straight from the factory.  If you want you can even go high end and buy a customized 10/22 from a number of manufacturers, but where is the fun in that!  There is a lot to be said about researching what's best for you in each piece of a rifle and assembling the perfect firearm based solely on your needs and tastes.
If a rifle is the sum of its parts, at the heart is the receiver.  It doesn't do a whole lot on its own but it anchors everything else together.  From the barrel to the stock, the whole connection of every piece of the rifle happens at the receiver.  Picking the best one for your rifle is not only the first step but probably the most important.
There are plenty of options to consider and a variety of choices available on the market.  Taking all of those into consideration is a little mind-boggling so we have attempted to refine the search to some of the best receivers available in all categories.  No matter your needs or budget, there is likely something below that will suit you.
Best Ruger 10/22 Receiver Comparison Table
Image
Description
Manufacturer
Made In
Price
VOLQUARTSEN - SUMMIT BOLT ACTION RECEIVER AND BOLT


** Editor's Choice - Best Ruger 10/22 Receiver **

VOLQUARTSEN
USA
BROWNELLS - BRN-22 Stripped Receiver for Ruger™ 10/22™


** Best Budget Ruger 10/22 Receiver **

BROWNELLS
USA
GRAND MASTERS L.L.C. - 10/22 GRANDMASTER ACTION
GRAND MASTERS L.L.C.
USA
VOLQUARTSEN - 10/22® STAINLESS STEEL .22LR RECEIVER
VOLQUARTSEN
USA
VOLQUARTSEN - 10/22® SUPERLITE RECEIVER
VOLQUARTSEN
USA
TACTICAL SOLUTIONS, LLC - RUGER® 10/22® X-RING RECEIVER
TACTICAL SOLUTIONS, LLC
1. VOLQUARTSEN – SUMMIT BOLT ACTION RECEIVER AND BOLT REVIEW
** Editor's Choice – Best Ruger 10/22 Receiver **
You should have known it was coming.  If you start talking match grade, it's inevitable that Volquartsen will earn a mention and for good reason!  Volquartsen is a byword for quality and fine machining that will take your gun to the next level, every time! If pure, unadulterated accuracy is the goal, this is the receiver for it!
Everyone knows that a bolt action is more accurate than a semi-auto when all else is equal.  That means to get the most out of a 10/22 you would need a bolt action one?  Well, yes but is it really possible?  That too is a yes!
Working with a concept originally developed by Primary Weapon Systems, Volquartsen has produced a 10/22 receiver that functions just like a biathlon-style bolt action rifle.  The lever style bolt is a straight pull and provides consistent and even pressure on the back of the round as its chambered to really give you the best starting spot for an accurate shot each time you pull the trigger.
2. BROWNELLS – BRN-22 Stripped Receiver for Ruger™ 10/22™ REVIEW
** Best Budget Ruger 10/22 Receiver **
This is a product straight from the horse's mouth so to speak.  Brownells probably knows a thing or two about customizing guns, they have been in the business for 80 years or so.  Straight from their shop is a fine example of a stripped receiver at a price that beats everything else in the market flat out!
Available in either a standard top with scope mounts or an integral Picatinny rail, there should be something for everyone.  Like most 10/22 receivers, Brownells uses aluminum, which is plenty durable enough for such a small caliber, and then hard coats it similar to an AR-15.  There is even an access port in the rear of the receiver to aid in cleaning without having to risk damage to the bore of the rifle.
This is a stripped receiver so there is not bolt assembly but it should be able to fit any aftermarket bolt available.  The machining on this receiver is superb!  Almost unbelievable for such a budget offering.  It may not be the most fine-tuned but the fit and finish are smooth.  You can tell this is a target grade receiver and no doubt about it!
3. GRAND MASTERS L.L.C. – 10/22 GRANDMASTER ACTION REVIEW
From another company that should know the ins and outs of custom guns, Grand Masters has been offering tools and parts to gunsmiths for years!  Their 10/22 action has been around for a while and doesn't seem to be going away anytime soon.
For those who aren't into the tactical look, the plain exterior of this 10/22 receiver is a wolf in sheep's clothing.  Finely machined from aluminum billet with a superb fit and finish that almost feels silky to the touch, The Grand Master may be one of the best feeling receivers on this list!  It not loaded with features because it doesn't need to be.  Notably, it does have some additional clearance for the Grand Master spring assisted mag release if you pair it with the Grand Master action.
This receiver is part of the Power Custom line and it should be noted that back in the early 70s before custom guns were a huge market that the majority of the best pistol shooters in the U.S. were using revolvers with Power Custom parts.  There is no reason to doubt that this receiver is made with the same care and quality.
4. VOLQUARTSEN – 10/22® STAINLESS STEEL .22LR RECEIVER REVIEW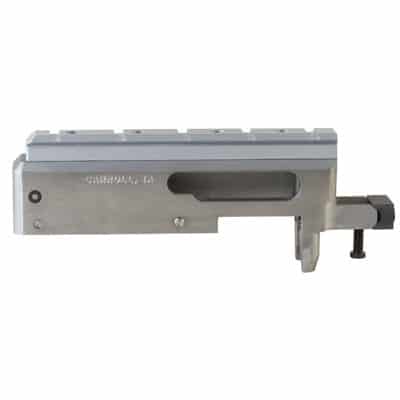 If it was good enough for one, it's good enough for two!  It's just so hard to get away from Volquartsen, especially when they offer such a variety of parts that sometimes it takes some consideration even from the same manufacturer to get what's right for you.
The only steel option on this list, this Volquartsen is also light on features but huge on quality!  It does come with a standard Picatinny rail, which can be removed, and plenty of fine craftsmanship.  There are no rough patches or sharp corners.  All the edges are very slightly chamfered, including the pin holes, to ensure only the best possible fit!  Just the feel of the receiver speaks of quality.  Like those above, this receiver does not include a bolt.
The brushed stainless look really provides a touch of flair in a world of drab, black guns.  If you like the black look, there is an option from Volquartsen for that.  But maybe you should live a little and get something with some shine!  With a match grade receiver like this, you are sure to be noticed.  Might as well look your best!
5. VOLQUARTSEN – 10/22® SUPERLITE RECEIVER REVIEW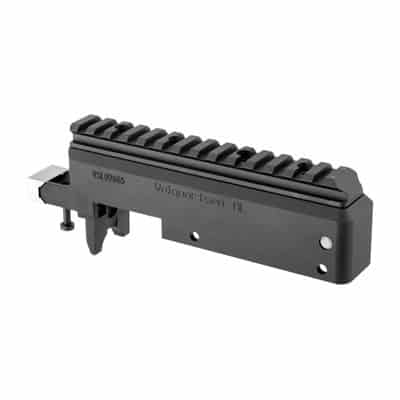 I know, there were already two Volquartsen receivers on this list but it's always fun to have something a little bit different to choose from and this receiver really stands out from the crowd!
Because so many offerings are aluminum, it's only fair to give the aluminum Volquartsen a fair shake.  Like the steel offering above, you won't find flaws in this receiver.  It is machined to exacting tolerances and standards.  It offers pretty much the same features as the steel receiver but with lighter materials.
If you want to preserve the look of the 10/22 or just prefer the aluminum parts, there is nothing wrong with choosing this receiver.  It checks all the same boxes as the steel receiver in being match grade, finely polished with a superb fit and finish.  It's a great choice for the start of a custom gun!
WHICH RECEIVER IS BEST FOR YOU
Since this is the starting point for a rifle build, there are several points to consider before you break out the credit card.  Really, it's going to come down to how accurate do you really want and how accurate can you shoot?  Or maybe how accurate do you need to shoot for your purposes.  But how do you make that decision?
Well, let's start with price.  There is quite a range for what is, essentially, the same part.  You are paying for accuracy but you get it in diminishing returns.
Spending on the low end will get you more accurate than the stock receiver by a fair margin.  Going up to the Grand Master at ~$250.00 will tighten those groups up just a little more.  Add another hundred-twenty bucks to that for the Volquartsens and you get a hair better.  Each dollar gets you less and less.  How accurate do you need to be or, more likely, how accurate can your wallet support.  Remember you still have a lot of gun to buy.
For the complete actions, it's not really so much accuracy as features.  When you factor in that a bolt will run anywhere from $100 to $300, the Tactical Solutions is pretty much on par with what the Grand Master would cost.  The Volquartsen Summit, you are not only getting accuracy but the features of a toggle style bolt.
You will also need to consider how you intend to mount optics.  There are no sights on any of these receivers so a scope is a necessity.  The standard Ruger mounting holes for rail bases is an option that will save you a few dollars on a receiver but probably cost you more in the long run over a pre-installed rail system.  The difference being that with rail bases you can choose if you need special MOA mountings for longer range shooting.  If you choose a pre-installed rail, you know its already set up for the receiver.
When it comes to special features, receivers are generally pretty light on the extras.  The Tactical Solutions has the dual guide rods which will improve feed and function to some degree but any quality bolt and trigger group should provide you with nearly the same quality.  The real contender for features is the Summit bolt action conversion.
CONCLUSION
I have made my choice but let's narrow it down to how.  I want an integral rail because I don't want to fool around with add-on bases and pay for another part.  That rules out the Grand Master.  And I want the best quality I can get which rules out the Brownells.
I would also like to get a matching receiver and bolt so that would be either the Tactical Solutions or Volquartsen Summit.  Alternatively, I can add a Volquartsen bolt to one of the other Volquartsen receivers.  And that's my choice.
I like the bolt action option but I want a semi-auto and choosing anything other than the best for the anchor point of your rifle seems like a waste.  So Volquartsen it is.  In my case, I went with the stainless steel.  It weighs essentially the same as the Superlite but may have a slight edge in accuracy and durability.
That's my pick!  Sure, it's pricey but I am not building a gun to shoot second best.  I will take the punch to the bank account and go with what works.  I suggest you do the same but if you just need a little edge, any of these choices will serve you well and make you a gun you can be proud of!