If someone were to ask you what to change on their trusty ol' Ruger 10/22 to really make it a tack driver, the answer would be obvious!  Change out your barrel!  It's not an art, it's a science. People have been refitting barrels on stock guns since cap and ball times for exactly the same reasons:  Get rid of the mass-produced barrel that is made to get as many guns out the door as possible and get something that is finely crafted to really lock the lead on target.
10/22 barrel changes are a pretty simple matter, but you may want to get a couple of specific tools to make sure things go right. Firstly, I would highly recommend you get a torque wrench, I prefer the Wheeler Engineering Fat Wrench. This is just to ensure you get everything where it should be with no slop or damage. Secondly, having a headspace gauge or go-gauge is highly recommended to prevent a slew of issues that can arise from improper head spacing. A rubber mallet is also a handy thing to have just to make sure you get the barrel properly seated.
The actual process will require a full strip down of the receiver which may sound daunting but it's nothing you can't handle. If you have field stripped your gun to clean it from time to time, you are only two screws away from a barrel change. But what should you change it with?
Best Ruger 10/22 Barrel Comparison Table
Image
Description
Manufacturer
Made In
Length
Price
RUGER® 10/22® LR BARRELS


** Editor's Choice - Best Ruger 10/22 Barrel **

VOLQUARTSEN
USA
16.5, 18 inches
RUGER® 10/22® TARGET BARRELS


** BUDGET - Best Ruger 10/22 Barrel **

E.R. SHAW
USA
18 inches
RUGER® 10/22® REPLACEMENT BARREL
GREEN MOUNTAIN
USA
20 inches
RUGER® 10/22® X-RING BARRELS
TACTICAL SOLUTIONS, LLC
USA
16.5 inches
RUGER® 10/22® ULTRALIGHT TARGET BARREL
BEYER BARRELS
USA
16.5 inches
1. VOLQUARTSEN – RUGER® 10/22® LR BARRELS
** Editor's Choice – Best Ruger 10/22 Barrel **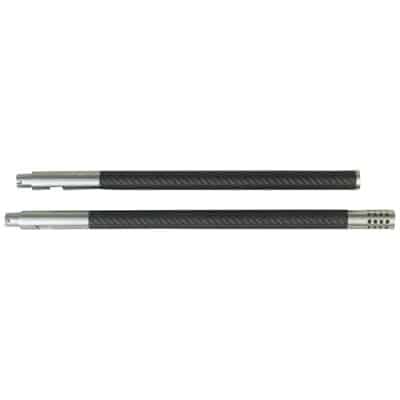 Everybody and their brother has a 10/22 so mostly they earn a passing glance at best. If you want to turn heads, you can do it with accuracy or you can do it with style. Or you can do it with both with Volquartsen!  It's hard to think of accurizing a gun without that name coming up and for good reason!  Volquartsen makes so many fine-tuned parts for so many guns. For the 10/22 they make practically everything. In fact, you can buy a Volquartsen 10/22 if you want to spend over a grand on it.
Every article should have something in it that is just another animal altogether and this is it!  Instead of steel or aluminum, Volquartsen went with carbon fiber to really get the weight down. They also use a stainless steel liner which is easier lapped to fine tune accuracy down to a hair's width. Barrels are tensioned at both ends to make the whole structure rigid and should provide some pretty consistent shots, even cold bore.
This is a barrel for a certain sort of person. I can't see this on a wood stock rifle. This is space age tech and deserves a sense of style. It's not for everyone and it's probably not the most accurate barrel out there. But it will shoot circles around a factory barrel and turn heads while doing so. If you want something a little unique but is still high quality and very accurate, this is for you!
2. E.R. SHAW – RUGER® 10/22® TARGET BARRELS
** BUDGET – Best Ruger 10/22 Barrel **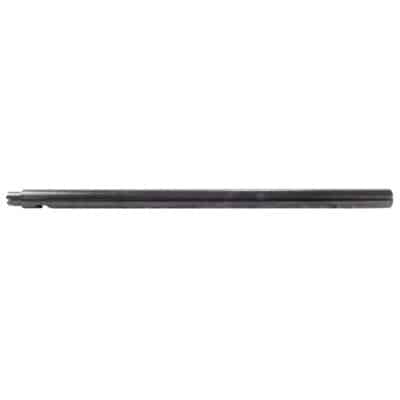 Maybe you want something with some history. A company that has been making custom barrels since grandpa was in diapers. If so E.R. Shaw is the answer!  Made with either 416 stainless steel or 4140 chrome moly, these are plenty durable barrels with a satisfying weight to them.
Shaw barrels are available in helical fluted or non-fluted depending on your aesthetic preference and are either 18" crowned or 16.5" threaded so you can finish it off with your preferred compensator. All barrels are Bentz chambered which is just a fancy taper that puts the lead on the rifling to tighten up those groups. Shaw only makes bull barrels so make sure your stock is the right fit before you go after one of these.
Shaw has developed somewhat of a reputation as a low-end custom barrel maker and apparently, an occasional rough model makes it out of the shop. They are also noted for 'shooting out' early but most of the time these barrels are put on high-velocity rifles, we are talking about a .22. At the price point, well below half of some competitors, there is no reason to believe that this barrel will wear that badly with just a .22. If this were a 22-250, it may be a different story.
3. GREEN MOUNTAIN – RUGER® 10/22® REPLACEMENT BARREL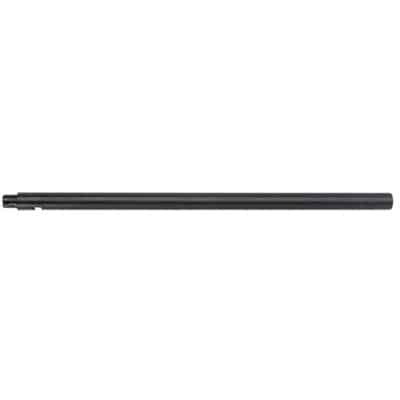 If you are still unsure on the Shaw barrel, maybe it's near cousin will appeal more to you. This barrel has pretty much everything in common with a Shaw barrel but with perhaps a bit more fit and finish. Occasionally a rough barrel can still escape but nothing a little lapping won't solve and you are still way under half the price of a premium barrel.
Made from the same 4140 cm or 416 stainless, Green Mountains barrels do have some heft to them. There are fluted and unfluted models available but they run a bit longer than the Shaw or factory models at a total of 20" and are crowned. Green Mountain does offer some target weighted barrels but I find the idea of added weight on a .22 to be a little unnecessary. Options for a standard, tapered barrel are available.
You are still in the low end of barrels with Green Mountain but not so far as to compromise quality too much. Durability seems to be less of an issue than with Shaw barrels if that is a concern on your .22. Most people will never shoot a .22 till it really wears out and if so, these barrels are still cheap enough to replace as needed which should be way into the thousands of rounds.
4. TACTICAL SOLUTIONS, LLC – RUGER® 10/22® X-RING BARRELS
There was a time when guns were made of wood and steel with maybe a little brass for looks. Then we replaced wood with plastic because it was lighter and more stable. There is no reason we can't replace steel the same way. Remember, we are talking about the little plinker caliber here. This is not some high-powered rifle with recoil stress to worry about so we can really lighten the load of the gun with more modern materials.
The barrel is the heaviest component of the 10/22. If your goal is to get the gun a bit lighter, Tactical Solutions offers a barrel of aluminum!  Now to be specific, there is a chrome moly liner at the core but the rest of the barrel is just for stability so why not replace it with something lightweight. While we are at it, aluminum is about 5 times as conductive as steel so you should be able to shed heat a lot faster. Of course, it gets hot faster as well which shouldn't be a problem unless you are really putting lead down range.
Tactical Solutions really adheres to consistency = accuracy. Each barrel is precisely machined to 16.5" and a weight of a 1lb. Tactical Solutions didn't invent the aluminum shrouded barrel but they have given it a very good run!  I doubt you will find many flaws from the factory here. As long as you are fine with a crowned bull barrel with no threading, this is a solid choice!
5. BEYER BARRELS – RUGER® 10/22® ULTRALIGHT TARGET BARREL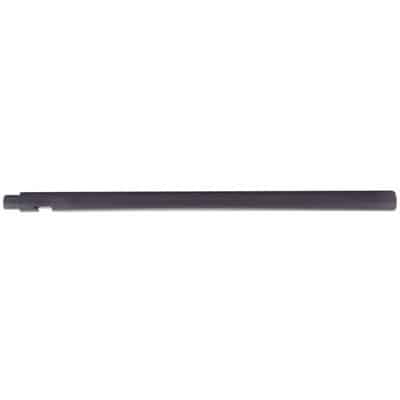 Another offering in the aluminum barrel category that runs just a bit cheaper, Beyer Barrels do offer a bit more variety than Tactical Solutions. Machined from an aluminum alloy that is actually harder than some steels, these barrels should be plenty tough!  Add a factory application of Cerakote and this barrel should be able to handle anything that steel can!
Where you were restricted to bull barrels with no threading with the Tactical Solutions, Beyer has options for standard barrels and are available threaded to fit any AR style flash hiders or muzzle breaks. You can also get a standard crowned model. What you can't get is fluted barrels but there is very little reason to have flutes when you have a lightweight material already.
Beyer has only been around for a decade or so but they have really dedicated themselves to producing a pretty fine product!  They consistently rate better than most other aluminum offerings and for good reason, Beyer has really specialized their production at the cost of product variety. They may not do a lot but what they do, they do well!
WHICH BARREL IS BEST FOR YOU?
Most things with firearms are going to come down to a person's preferences as to what shoots best for them. That may be the case with stocks or sights but not for barrels. As I said, barrels are a science!  Sure, the style will play a part. We all want a certain aesthetic to our guns, but for accuracy, it's all in the craftsmanship.
If you are hung up on tradition, choose one of the steel barrels. They should serve you well and do a better job than the factory barrel. Both Green Mountain and Shaw have been producing barrels for years, sometimes decades and they have the science down pat. The rifling is tuned to a .22 and the materials are a good choice. They have a satisfying weight to them which can be a nice thing to have. Sometimes I like a little heft to a gun. It may not make it more accurate but it will feel more accurate.
If you still want a traditional look and nothing too flashy but the weight could be a little less, either the Tactical Solutions or Beyer barrels in aluminum are fine choices. They outshoot a factory barrel all day and weigh a fraction of the amount while being plenty strong. But if you want a different flavor, the Volquartsen will do everything they do and more while standing out in the crowd.
If deadpan accuracy is your only concern, get the Volquartsen. As a brand, they are tried and true and have always offered only the best, most accurate products. They have some equals but very few, if any, betters. The next step down would probably be Beyer if you wanted to measure the tiniest of difference in group size. Any of the barrels should still outperform a factory barrel.
I know that cost is always a factor. Everyone has a budget. But a barrel is not the best place to go cost cutting. If you need to save a bit here, go with the steel barrels. Both Shaw and Green Mountain are just over a hundred bucks. Past that, the Beyer, Tactical Solutions, or Volquartsen all fall into the $250.00 range.
Very few choices you can make on your rifle will affect accuracy more than your barrel. And when it comes down to it, it's not a bank breaker. You can easily spend more on triggers and stocks than barrels. Save your money on those if need be but don't skimp on the barrel. You can get a 10/22 barrel for ~$60.00 if you want to shop around but if it doesn't offer you something more than what you got from the factory, why bother?  Sure, you could get something with a different style but no one wants to make a gun shoot worse. Choose your new barrel with some care!
RECOMMENDATION
I usually try to be open and thoughtful when I suggest a product. I like to take in the options and consider what a person may want. Sure, if you want steel, get steel. If you want lightweight, you can get one of the aluminum options. As for me, I will take the Volquartsen every single time!
It's not about the styling or space-age materials. I could care less about those. This is a barrel to make my gun shoot better!  Volquartsen is pretty much a guarantee. I am sure I could be happy with one of the other barrels but I would always wonder how much better things would be with that carbon fiber monster. I know Volquartsen would be better so why not bite the bullet up front and just get what does the best job.