Unless you are one of those individuals that enjoys disassembling your firearm and passionately scrubbing it, cleaning a gun is one of those annoying tasks that every shooter and hunter has to go through. Without regular cleaning, oiling, and maintenance, there is no way to keep your firearm firing properly and accurately, as carbon, oil, and dirt can combine to foul up your firearm. However, this doesn't mean you need to spend hours thoroughly cleaning and lubricating every part of your firearm, as advancement in technology has allowed this to be a thing of the past thanks to ultrasonic gun cleaners. Ultrasonic cleaners are also an excellent tool for reloaders to handle case cleaning.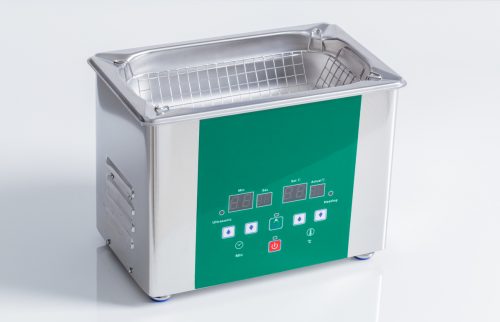 To show you why ultrasonic gun cleaners are such a handy item for you as a hunter or shooter, this guide will focus on providing you with all the information you need to know about these innovative devices, including how they work, the best ultrasonic gun cleaners on the market, the benefits, and what to look for when buying them an ultrasonic cleaner.
Best Ultrasonic Gun Cleaner Comparison Table
Image
Description
Size
Rating
Price
RCBS Ultrasonic Case Cleaner


** Editor's Choice - Best Ultrasonic Gun Cleaner **

3.0 liters
9.0
iSonic P4820-WSB Commercial Ultrasonic Cleaner


** Best Budget Ultrasonic Gun Cleaner **

2.5 liters
8.7
H&B Luxuries 160 Watts Ultrasonic Cleaner
2.5 liters
8.1
Hornady Lock-N-Load Sonic Cleaner II
2.0 liters
8.8
Aucma 160W Professional Heated Ultrasonic Cleaner
2.5 liters
9.4
Hornady Lock-N-Load Hot Tub for Sonic Cleaners
9.0 liters
8.6
Lyman Products Turbo Sonic Power Professional Ultrasonic Cleaner
26 liters
7.7
Tek Motion Digital Professional Ultrasonic Cleaning Machine
10 liters
7.6
1. RCBS Ultrasonic Case Cleaner
** Editor's Choice – Best Ultrasonic Gun Cleaner **
This ultrasonic case cleaner from RCBS is the best in the business when it comes to cleaning cartridge cases and metal components. It has an impressive design with a stainless tank containing many brass cases. The RCBS removes metal oxides and carbon build-ups in a quick manner. It is also great for small gun parts.
This ultrasonic case cleaner will be a great addition to any hunter's or gunsmith's workshop. It has a lot of pre-sets when it comes to temperature levels and settings that make handling different kinds of cleaning easier.
One of the outstanding things about RCBS Ultrasonic Case Cleaner is its portability and compact design. The unit weighs 9.3 pounds and comes in shape of a toolbox. This means you can bring this cleaner with you anywhere you like. It also has a digital keypad placed at the top right part of the unit to help you adjust the sonic cleaner's settings.
One thing that sets RCBS Ultrasonic Case Cleaner apart from most of its competitors is the combination of its transducer and heater. To clean parts effectively, this ultrasonic cleaner is powered by a ceramic heater that can generate up to 100W of energy, coupled with a high-frequency transducer that can generate 60W. These components, along with a quality cleaning solution, work hand-in-hand to deliver optimal cleaning results.
When cleaning gun parts, it is sometimes important to soak and expose them to cleaning solution inside the cleaner. This task is a lot easier with RCBS Ultrasonic Cleaner since it has five temperature settings and you can set the device to start cleaning after a certain duration as it has pre-set timer of 5-30 minutes.
Also, this case cleaner from RCBS comes with a drainage hose and built-in drain. This helps you avoid tipping over the unit when removing your cleaning solution after every session. The drainage hose comes in handy if the device is located far from the sink. In such a case, you can use the hose to channel used water out of cleaner without moving the tank nearer the sink.
However, one downside of RCBS Ultrasonic Case Cleaner is that it may not be potent enough to remove stubborn grime and dirt on gun parts on the first try. This often occurs with most ultrasonic cleaners since they do not have spot-cleaning features and some grimes are just too stubborn. Often, this can be corrected by doing another cleaning session. The shinier you want your gun parts, the more you need to clean them again in your sonic cleaner.
Features of RCBS Ultrasonic Case Cleaner
It has a case cleaner with prep tools and accessories
It is made by a reputable manufacturer, RCBS; one of the leading manufacturers of reloading parts in the world
Has a ceramic heater with a capacity of 100W and a powerful transducer that boasts a capacity of 60W
It works with 36kHz frequency that ensures a thorough and quick cleaning
It has a sensor which indicates the optimal time for changing the solution
Comes with an inbuilt drainage hose
It also features a degas function that removes unwanted excess gas
Benefits of RCBS Ultrasonic Case Cleaner
This ultrasonic case cleaner enhances the cleaning process
It has an inbuilt drain valve and tube making maintenance easier and simpler
It is a quality cleaner and will deliver great results
Has a compact design that enables it to save up space
Very user-friendly and is easy to set up
It offers a great way of keeping up with environmental laws and safety regulations because it uses smaller amounts of cleaning solutions and chemical concentrations
The user has less contact with potentially harmful chemicals thanks to its automated process
2. iSonic P4820-WSB Commercial Ultrasonic Cleaner
** Best Budget Ultrasonic Gun Cleaner **
First of all, this cleaner offers you a tank size of 9.8 inches by 5.8 inches by 3.1 inches with a water capacity of 2.6 quarts (that's almost 2.5 liters). As for power, this ultrasonic cleaner from iSonic functions with a frequency of 42,000Hz on a pre-set heat of 65 degrees Celsius. It is the best ultrasonic cleaner for brass objects, jewelry, arms parts, etc. Besides, it offers five deep cycle settings; 90, 480, 380, 280, 180 seconds with an auto shut off. It also features an overheat protector and a cooling fan.
The iSonic P4820-WSB works great in cleaning long items such as bore and other gun parts. Compared to most cleaners, this is stronger and more durable.
Its compact design enables it to fit well in small spaces and can easily be cleaned thanks to its stainless-steel tank. It has a cooling fan which contributes to its lengthy lifespan.
Users love this ultrasonic cleaner because it produces less noise compared to other cleaners and also comes with a metal, mesh basket instead of those plastic ones.
 Features of iSonic P4820-WSB
Has a 2.6-quart basin that can hold odd or large sized items
Whether removing dirt from crevices of your gun parts or reaching the tarnish inside a bore, this cleaner gets nearly everything
It has a heated setting that removes oil or lubricants that cleaners won't remove
Features an overheat protector that prevents damage to machine and parts being cleaned
Comes with a basket that keeps everything in place and makes it easier to remove objects and parts from the machine, especially after a heated cycle
Benefits of iSonic P4820-WSB
Has a large capacity thereby enabling it to accommodate odd or large sized items
It is easy to use
It is digitally programmable making it user-friendly
Has a metal basket instead of flimsy, plastic ones
It comes with a complimentary plastic basket/tray
Features safety features such as circuit protect, radiator fan, and auto shut off
3. H&B Luxuries 160 Watts Ultrasonic Cleaner
This cleaner features qualities that you will find useful. In particular, it comes with electricity heated engine that can provide up to 160 watts and 35 kHz of power and frequency for a thorough cleaning process. Besides, H&B Luxuries Ultrasound Cleaner features a digital program to operate this device.
This cleaner has five working cycles to choose from based on different types of objects you intend to clean. The working cycle can range from 90-480 seconds of the working time.
In terms of build, H&B Luxuries Ultrasound Cleaner is made using top-grade materials. The tank is made of tempered stainless steel thereby providing the firmness and resilience needed with corrosion, rust, and stain. Also, the housing is made using polyethylene which is hard and sturdy for longer use. Despite its solid built, this machine is lightweight.
Additionally, this ultrasound cleaner from H&B Luxuries features a circuit operation which helps protect the circuit by lengthening its life. Also, it comes with a powerful radiator fun that keeps the components of the machine cool.
To summarize, H&B Luxuries Ultrasound Cleaner is a powerful machine with a potent heater and transducer as well as a large tank capacity for optimal cleaning result. This makes it a great cleaning tool for cleaning all types of firearms. You will find it highly convenient as it uses a digital program to control the unit. It boasts five working cycles, and therefore you can clean any item regardless of form and quantity. As a result, it is suitable and the cleaning results it will offer will be more than remarkable.
 Features of H&B Luxuries Ultrasound Cleaner
It has a large and lengthened stainless steel tank that can accommodate virtually all parts of any gun
The tank size measures 9.84 inches by 5.90 inches by 3.15 inches
It has a tempered transducer which makes this cleaner more powerful
Produces 35 KHz and 160W cleaning power. This provides incredible cleaning results
The heater can accommodate a temperature of up to 65 degrees Celsius (149 degrees Fahrenheit) and has a 45 minutes controller. This makes it safe and reliable
Has a digital program with five working cycles
The tank has a maximum line capacity of 2100
Benefits of H&B Luxuries Ultrasound Cleaner
It is sturdy and lightweight
It features a circuit operating system with a cleaner which lengthens the unit lifespan
The cleaner has a radiator fan to keep all components of your machine cold
4. Hornady Lock-N-Load Sonic Cleaner II
This ultrasonic cleaner is a bit smaller compared to most units on this list. The cleaning tank is about seven inches long, and that's about half the length of tanks in most models. Its small size should not bother you if you have 200-300 cases to clean. For instance, this tank can hold 200 pieces of .223 cases and 150 pieces of .308.
This model is great for cleaning small gun parts and can handle slides of handguns and revolvers or parts of Springfield XD, Beretta, AR-15, Glocks, etc. For gun parts and brass, ensure that you use a gun cleaning solution made by Hornady. The solution works great for items made of steel and stainless steel. This model's tank is made of stainless steel. It is durable and can handle bumps. The tank has ample size and can hold a variety of gun parts.
The Hornady Lock-N-Load ultrasonic cleaner does not use much power to heat water. It only needs 80W to heat two liters of water, which is its capacity.
It is the best ultrasonic cleaner for brass and leaves brass parts shining with no grime or gunk. This cleaner also works on parts of guns that usually do not get cleaned.
Features of Hornady Lock-N-Load
It includes a digital control pad
Powered by an 80W heater and transducer
Has a portable and compact design
The stainless steel tank has a capacity of two liters
Timers can be set between 5-30 minutes
Benefits of Hornady Lock-N-Load
It works great
It is easy to use
The heat emitted enough heat to make the cleaning process easier and quicker
It is a great cleaner for brass
It cleans all parts, including gun parts that are not usually cleaned
5. Aucma 160W Professional Heated Ultrasonic Cleaner
The AUCMA 160W Ultrasonic Cleaner ensures that you can clean items such as fasteners, hardware, small metals or even jewelry in an easy way. You only need to fill the cleaner with enough and appropriate ultrasonic powder then mix with water and select your preferred preset cycle. This ultrasonic cleaner can work even when heat is not available and boasts a clear view window so that you can see and feel the power action.
The Aucma ultrasonic cleaner can be a perfect gift for a man who likes to clean gun parts such as wrenches, sockets, brass or ammunition parts such as small engine and motor carburetor. The cleaner generates 40, 000 Hz combined with 160W power of ultrasonic waves output for an efficient yet gentle clean; it offers exceptional cleaning results. With a huge 2500 ml stainless steel cleaning tank all your jewelry, whether small or large can be easily cleaned.
The cleaner also comes with a heat function that offers supreme ultrasonic cleaning. It works with temperatures up to 65 degrees Celsius in up to 45 minutes using the time controller. You have 5 working cycles to choose from with 90,180,280,380 and 480 seconds to choose from. The digital control ensures easy and precise control.
Features of AUCMA 160W Ultrasonic Cleaner
High Power- uses a 260 watts' power to ensure better cleaning
The Five Precise cycles allows precise control hence taking guesswork out of cleaning
Easy-to-read digital timer
Clear view window
Heated water function to ensure improved cleaning.
Cleaning cycles with LED readouts
Benefits of AUCMA 160W Ultrasonic Cleaner
Strong cleaning power
Convenient settings
Safe use
1-year warranty
6. Hornady Lock-N-Load Hot Tub for Sonic Cleaners
Guns are big investments whether you use them for job, hobby, or a sport. That's why you need the Hornady Lock-N-Load that will ensure regular and satisfying cleaning. Your weapons must look better, long-lasting and safer to use.
Featuring interior dimensions of 22.5 X 7 X 4, this unit is one of the largest as it consists 2 tanks. The larger tank can take up to 9 liters of cleaning liquid with the smaller one having a capacity of 1.6 liters. With just the larger tank in use, you can comfortably put in and clean a 1.6 inch AR-15 upper. For people who like to include various items in just a cleaning cycle, this is the ideal unit.
You only need to put another group of items by using the smaller tank. Amazingly, you can use two different solutions to clean two groups of items.
Do you feel that the two tanks are not enough? You just need to buy additional tanks with the same sizes. The main features of this model include the degas function as well as wide range of temperature settings (37-60 degrees Celsius). The unit also comes with hanging cords where you can just hang large objects to make their accessibility to the ultrasonic waves. What's more, you'll get drain pans and a basket to help you clean small parts.
Features of Hornady Lock-N-Load
Huge 9-liter tank which is long enough for a 16 inch AR-15.
Four transducers
Has a heating element that ensures improved cleaning action.
Up to 5 temperature settings for precise cleaning.
Equipped with an additional 1.7-quart inner tank to help you clean your small items.
Comes with integrated drain pans.
Benefits of Hornady Lock-N-Load
The larger tank helps in cleaning multiple gun parts.
Saves time
Gets rid of fouling from cases
If your item has dirt with oil, the cleaner is efficient.
7. Lyman Products Turbo Sonic Power Professional Ultrasonic Cleaner
Lyman introduced one of the market's largest and powerful cleaning system; the turbo sonic power pro. The system features extra-long heated tanks as well as 10 transducers to ensure enhanced cleaning action.
The new turbo sonic power pro has been designed for high volume cleaning with even the extremely large items being easy to clean. It boasts a 34-3/4 heated tank that can easily handle most upper receivers, barreled actions as even handguns. The powerful transducers ensure aggressive deep cleaning and can help clean oil both in and out. In fact, the power pro cleans so much effectively that Lyman recommends users with Lyman's Gun lube to use it to ultrasonically treat the cleaned parts. The cleaner also comes with an in-built drain system that makes cleaning to lubrication incredibly easy.
For volume professional usage, the power pro boasts a stainless design as well as professional controls. You can adjust the timer and the heat control to get rid of guesswork in your cleaning. In fact, you have up to 175 degrees to select from.
Users of Lyman power pro can easily lube parts without first draining the solution from the unit. The stainless tank is designed to sit in the cleaning tank which has to remain filled with cleaner. The powerful ultrasonic action of this unit is transmitted via the cleaning solution and taken to the accessory tank that's filled with lube. Note that there is no draining or cleaning of the tanks that is required. The unit has also been thoughtfully designed with the accessory tank having its side support brackets while the large handles ensure fast installation and easy removal.
Features of Lyman Turbo Ultrasonic Cleaner
Multiple firearms can be cleaned in short period of time.
Large handles help in easy tank movement.
Welded metal construction
Side brackets help in supporting the accessory tank.
Allows deep ultrasonic cleaning as well as sonic lubrication in the same unit.
Benefits of Lyman Turbo Ultrasonic Cleaner
Saves time even with multiple firearms
Has a sturdy construction for a long-lasting service
Can help in degreasing items
8. Tek Motion Digital Professional Ultrasonic Cleaning Machine
Are you working in the tattoo industry, gun store, dental clinic, or jewelry field and you are looking for a quality cleaner for your tattoo gun or jewelry? The Tek Motion 10L Ultrasonic Cleaner is suited for you. You can clean tattoo tubes and guns, combs, razor blades, rings, necklaces, electronic shaving head, watch chains, cartridges, and small silverware.
Besides it features a digital panel for quick control, a manual for easy operation, and a quality cleaning basket. The power consumption of this ultrasonic cleaner is low and therefore save your billing on electricity.
It comes with an impressive build quality made of stainless steel. It will perform best for your application and has been proven to be a quality cleaner.
Features of Tek Motion 10L Ultrasonic Cleaner
It is a professional cleaner with 10 L capacity
It is backed by a one-year warranty
Comes with a stainless steel lid that prevents cleaning solution from evaporating; it also acts as a safety feature
Features a digital panel for precise control and operation
Benefits of Tek Motion 10L Ultrasonic Cleaner
It saves on electricity bills by consuming lesser energy
Comes with an easy to understand manual for easy operation
Has dual-fuse protection to prevent burnout
Has an extra-thick stainless tank for safety and longevity
How Do Ultrasonic Cleaners Work?
Although they vary in shape and size, all ultrasonic cleaners feature a heated tank. The tank should be filled with a special gun cleaning solution, after which you place the pieces of your firearm in a basket and lower it into this solution. After closing the tank, the cleaner begins working by sending out ultrasonic waves which gently scrub the entire surface of your gun- even penetrating into any cracks and other parts that you would have been impossible to clean by hand.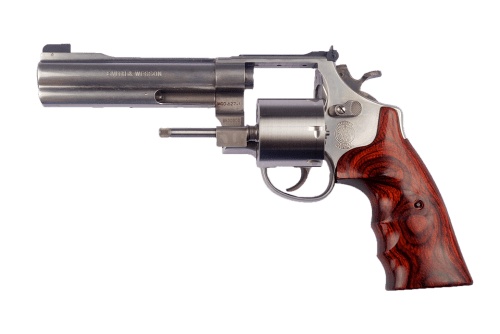 The cleaner produces high-frequency sound waves penetrating through the water to cause cavitation that lightly scours the gun surface. By using this technology and cleaning the parts with air and liquid only, ultrasonic cleaners ensure the gun is thoroughly cleaned in a gentle manner.
After placing all the parts inside this cleaner, all you need is to set the length of time you want the machine to run and let it do the magic. After the process is over, replace the cleaning solution with lubricating oil and set the machine to run again. It will be worked thoroughly into all crevices and holes, ensuring that no water or moisture is leftover inside your gun to prevent future rust. When you finally remove the parts from the machine, you will be left with a spotless, clean, lubricated parts ready to be reassembled. Gently wipe off any excess lubricating oils, and you are ready to go.
Benefits of Using an Ultrasonic Gun Cleaner
An ultrasonic cleaner works by emitting high-frequency sound waves that move through water thereby creating ultrasonic vibration and bubbles. The process is known as cavitation. The agitated water removes contaminants and dirt from gun components.
Unlike manual guns cleaning methods such as using soapy water and a small brush, the bubbles created by an ultrasonic cleaner can remove dirt build and rust in hard to reach areas such as little cavities and crevices.
Most ultrasonic cleaners require heated water and special cleaning solution for optimal cleaning. However, some cleaning machines on the market only work with tap water. The cleaning process takes a few minutes, and gun components come out of the solvent or oil clean and sparkling.
Among the main benefits of using the best ultrasonic gun cleaner include;
This is the main benefit that a gun cleaner has to offer. It cleans a variety of guns ranging from pistols and rifles to bigger firearms like carbines. They offer different condors for longer cleaning time and more heat.
The use of heat provides better cleaning outcome as it breaks down grime and residue for easier cleaning capabilities. Also, it makes the cleaning work an efficient and fast outcome. He can also loosen up dirt that may be entrenched in small cracks that would be otherwise hard to reach.
Another notable benefit of using an ultrasonic cleaner is that it saves plenty of time. You can clean your gun in as little as ten minutes when using an appropriate cleaning cycle. The outcome is harder to achieve when using the manual method. It gives you free time to carry out other productive activities.
Cartridges and other components can be cleaned together
You can clean gun cartridges, bore, and other parts all together and they will come out thoroughly cleaned. This is a huge benefit that you can take advantage of; being able to clean all these items in lesser time.
Factors to Consider When Choosing an Ultrasonic Gun Cleaner
Considering all of the above benefits not only applies to cleaning guns but to also most metallic or hard objects, you probably will not be surprised to learn that people use ultrasonic cleaners for a range of items including jewelry, brass items, auto parts,  etc. However, whether you are shopping for the best ultrasonic cleaner for brass, best ultrasonic cleaner for guns, or best ultrasonic cleaner for carburetors, there are several things you will need to keep in mind.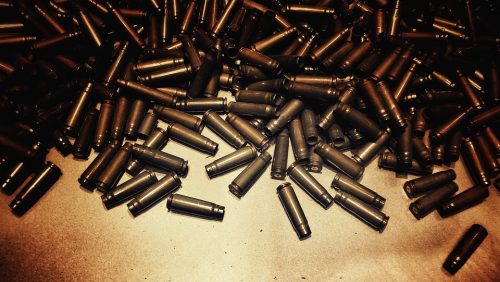 First, when you start comparing the available products, you will realize that very few of them are made specifically to clean firearms. However, this is because they clean a wide variety of items. This means you don't necessarily have to choose an ultrasonic cleaner designed specifically for guns as there are many important factors you need to consider;
Typically, the most crucial factor you need to consider when choosing the best ultrasonic gun cleaner is its size. An ultrasonic cleaner meant for reloading purposes is not the best for cleaning larger rifle parts. Because of this, it is important to consider the size of the parts you intend to clean.
If you are planning on using it to clean old cartridge shells, then you can settle for a small model, while you will require a large, deeper tank if you are planning on cleaning larger parts.
Of course, if you are not on a tight budget, you can go for the biggest tank you can find as this will offer more possibilities. However, keep in mind that the size of the tank dictates the amount of cleaning liquids to be used; the bigger the tank, the more money you will spend on cleaning and lubrication solution to ensure that all the parts are covered. To mention this, ensure you choose the best ultrasonic cleaner solution for your guns as not all cleaning solvents are safe for all firearms. In fact, you will need to choose a cleaning solution made specifically for brass when cleaning cases and steel when cleaning gun parts.
Post cleaning outcomes are of main concern for people in rebuilding, manufacturing, and gun fields. Ultrasonic is a thorough cleaning process that is used for various purposes. In this case, ensure that the cleaner you choose does a great job when it comes to cleaning parts and components of your gun.
The parts being cleaner should not touch the ultrasonic transducers inside the tank. Baskets should be used. Most of the ultrasonic cleaners come with a basket. If the cleaner you choose doesn't include a basket as part of its packaging, ensure to select a basket that is specifically made for cleaning application. Any basket or part making contact with the transducer packs will cause the surface to scratch or etch. Even though the packs are made of stainless steel, once scratches occur, erosion will follow and eventually the integrity of the transducer pack will be destroyed.
Heat Capacity the ultrasonic transducer can hold
Ultrasonic cleaners create heat as they run. The heat continues to rise during the cleaning process due to the cavitation activity being created with the tank. You cannot prevent the rise in temperature, and that's why you will need to go for models with tanks that have high heat tolerance for safety. High-temperature help breaks down contaminants and dirt to better facilitate the cleaning process.
Wave Sweep and Generator Adjustability
Wave sweep is recommended in virtually all cleaning process. By dispersing frequencies with varying wavelengths, wave sweep eliminates dead and active zones in the cleaning tank. This results in a more effective and uniform cleaning of all components especially those that need intricate details, therefore, go for ultrasonic cleaners with wave sweep so as to avoid degassing modes.
Most ultrasonic cleaner emits powers of 28-120 KH. Lower frequencies generate larger cavitation with coarser cleaning. These frequencies are great for abrasive cleaning needs such as removal of rust from durable metal. For fine cleaning of soft metals with refined surfaces, you need to use an ultrasonic cleaner with higher frequency. Most of them have frequencies of 38-40 KHz.
The power produced by an ultrasonic cleaner should be capable of cleaning the most stubborn contaminants and stains. Controls on your cleaner allow you to dial down or up the power to suit your cleaning needs. Because you can control the amount of power generated, there is no need to go for an ultrasonic cleaner that has minimal power capability.
The Bottom Line
All of the above ultrasonic cleaners we have reviewed are definitely amongst the best in the market, and each of them could easily vie for the title of the top best ultrasonic cleaner. For this reason, you cannot go wrong choosing any of these brands.
At the end of the day, nothing will give you more satisfaction as seeing how clean and shiny your gun will be after going through the cleaning process initiated by these machines. We hope that our guide will help you choose the best ultrasonic cleaner for your needs.
Resources
[1]
brownells.com
: Gun Cleaning Clinic: Ultrasonics – The King Of Cleaning
[2] 
tovatech.com
: How to Maintain Firearms with an Ultrasonic Cleaner
[3]
hornady.com
: Sonic Cleaners & Solutions