Responsible firearm owners know their weapon and the rules. Following the rules keeps the shooter and everyone in the facility safe. Gun ranges may post some rules that are unique to that facility; however, most ranges will post a minimum of:
Keep all weapons pointed in a safe direction.
Keep clear of the trigger until you are ready to fire the weapon.
Weapons should only be loaded while on the firing line.
Stop firing if ANYONE calls "Cease Firing."
No one is allowed to go down range unless all firing lanes are clear, and all weapons are cleared.
Shooters may only shoot the target in line with their lane.
Shooters are responsible for cleaning up their trash and spent brass.
Protect your body: use eyewear and ear protection, do not drink, eat, or smoke on the firing line, and ALWAYS wash your hands after shooting.
Be respectful of others waiting to use the range; do not spend extended time on the firing line.
Safe Direction
Ensuring a firearm is pointed in a safe direction is commonly understood as: pointed away from people, in general. The safe direction at a gun range is down range. All weapons should be pointed down range and should not be left unattended.
Trigger Safety
Fingers and any object that can place pressure on the trigger should not penetrate the trigger until the weapon is intended to be fired. When handling the weapon the shooter should be aware of where his or her fingers are placed on the weapon in relation to the trigger. Common placement includes extending the pointer finger and resting it above the trigger guard just below the barrel, away from the trigger.
Loaded Weapons
Gun ranges are loaded with armed individuals with a desire to practice their marksmanship skills. This means many firearms will be on the premises, both concealed and not concealed. As an extra safety precaution, most gun ranges restrict loaded weapons to the firing lines only. Humans make mistakes; by restricting loaded weapons to the firing lines the risk of an accidental discharge or negligent discharge are minimized.
Cease Fire!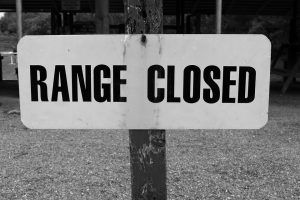 Anyone on the range can call cease-fire and expect the shooters to respond. This rule is put into effect to ensure that safety is kept in high regards. One range safety officer cannot effectively and efficiently keep watch of multiple firing lanes. Patron shooters are expected to actively participate in supporting gun safety while on the range and are given the power to call "Cease Fire" should the need arise.
Cold Range
When all firing lanes are cleared of shooters and weapons the range is considered to be a 'Cold Range.' When the range is cold is the only time it is considered safe for patrons, range safety officers, or anyone else to walk down range for any purpose. No one should assume the range is cold and safe; always verify that all lanes are empty, and weapons are cleared before walking down range.
Hot Range
The range is considered 'Hot' when firing lanes are not clear of BOTH patrons and weapons. When the range is 'Hot' no one is permitted access down range. This rule ensures that all present parties remain in safe quarters while weapons are in use.
Stay on Target
Staying on the target aligned with the firing lane in use increases safety and maintains respect between patrons. Firing across lanes could allow a bullet to bounce off an unexpected angle and stop in an undesired location. Backstops behind the targets are designed to absorb projectiles directly.
Clean Up
Clean-up is extremely important in public gun ranges. Thousands of rounds of ammunition are spent every day; patrons who clean-up after use of the lane provides a safer environment for the next patrons and reduces the amount of time the facility spends shutting down the faculty each night.
Protect Yourself
Ammunition casings are hot when they are ejected from any firearm and are often unpredictable. Eyewear protects the shooter from flyaway casings and any other debris that may come from firing. It is not uncommon for shooters to lose some of their hearing because they choose not to use ear protection. Most importantly, ingesting any of the materials coming from a firearm can be very harmful to the body; ingestion can be avoided by refraining from eating, drink, or smoking on the line and washing hands after shooting.
Time
Everyone wants an opportunity to improve their skills. Be respectful of the range and others by limiting your time on the firing line if someone is waiting.
Wrap-Up
The gun range is one of the best places to start when learning how to handle a firearm, proper stance, and basic maneuvers. Rules at the range are in place for everyone's safety and should be followed. Those who choose not to follow the rules are typically reprimanded and may be suspended from returning to the range.