For effective and convenient reloading, this kit and a set of Lee dies is everything you need to begin. When loading handgun cartridges, The Classic turret press is fast and convenient, with possible rates of over 250 rounds per hour.
Included in the kit are the Pro Auto-Drum powder measure and riser, suitable for cartridges of all handguns and small rifles. On press priming is also made easy with the inclusion of Large and Small Safety Primer.
Why Purchase this kit?
The box contains almost everything you would start reloading. The manual to begin with provides easy readable and helpful data and information on reloading. The ranges discussed in the manual in relation to powder types and bullets weights, also surpass other manuals. Personally written by Richard Lee the manual takes readers on a journey into the mind of the kit maker.
In all, the Lee Precision Classic Turret Press Kit is a suitable purchase, promising outstanding results for both new and experienced hand loaders at an affordable price.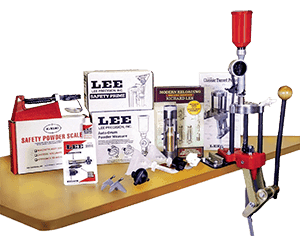 >>> Click Here to See More Photos & Price! <<<
Features of Lee Precision Classic Turret Press Kit
# Case prep tools: This is a blister pack which contains a case cutter, primer pocket cleaner, a case of lube for rounding out your case prep needs, chamfer tool and a lock stud specifically for the trimmer. These 5 are securely packed and help reduce clutter when working on your reloading endeavors.
# Large and Small safety primer feed: These safety feed have plastic parts and are well constructed and durable. This is an added bonus especially for plastic parts. To enable effective suspension of the priming arms, the turret protrudes with an attachment firmly bolted onto its corner. A disc that holds and feeds primers into the Ram-Prime is attached to the Large and Small safety primer feed.
# Pro Auto-Disk Powder Measure: This is also another assembly made mostly from plastic. It has a loose fitting lid that when used in addition to the die, allows the hopper clear the priming arm. A little bit confusing at first sight, but easy to handle once you get a hang of it. It works by pushing a disk underneath the powder hopper and then dropping the powder through the expanding die into your casing through the hole.
# Classic Turret Press: Unlike the other parts mentioned above, this is wholly metal. It functions by automatically running a little rod down the length of the Ram to index a four-hole turret. The lever is convenient for both left and right-handed users. A great linkage from the Ram-Prime tool mounted by the ram, its strength might require striking with heavy tools to break it.
# Lee Safety Scale: As stated earlier, the Lee Safety Scale is a beam scale, lovable by new reloaders. It however requires attention as compared to electronic scales. Mostly conventional in nature, its extreme sensitivity is able to detect minute changes in grains. Working with this scale therefore goes a long way to boost the confidence of new reloader. Knowing most calibrations were effectively engineered through your effort and not some computer.

Things We Liked
Effective and Easy to Use for all: The Lee Precision Classic Turret Press Kit is widely accepted by both experienced and new reloaders. The kit is easy and comfortable to use unmatched to a number turret press kits.
Affordability: The kit comes at a relatively affordable price. Most turret press kits do not guarantee this level of precision at such a price. They are either cheap and function poorly or function exceedingly well, yet bank breaking.
Things We Didn't Like
The Lee safety scale for instance effectively engages the reloader when taking grain measurements. If you are looking to leave concentration to something else, the Lee Precision Classic Turret Press Kit may not be for you.
Customer Reviews
Chris Cashion, a recent buyer of the kit, highly recommends the purchase of the Lee Precision Classic Turret Press Kit. He reiterates the kits functionality for new reloaders and its affordability. He lauded the great speed at which the kit was shipped.
According to Chris, the primer feeds has almost no issues with malfunction to him and maintains the primers is so far the best he has worked with at that price. He states, that placing the primers by hand is slow and involving, but once correctly set up, they work extremely well.
He finally concludes saying other brands are pricey and promise little. However, the Lee Precision Classic Turret Press Kit assures increased output out of a progressive press with an added benefit of affordability.
>>> Click Here To Read Specifications, Customer Reviews and Rating <<<
Conclusion
The Lee Precision Classic Turret Press Kit is an effective kit for reloading. Considering the most identifiable difficulty in its operation is the requirement of total concentration on the part of the reloader even mentioned by Chris in the customer review- you can never go wrong in purchasing this kit for your reloading endeavors.