Among serious rifle shooters, there are not many topics more debatable than the topic of the break-in processes for a new rifle barrel. Debates fall into two areas. One is the question of whether one needs to 'break-in' their new rifle barrels or not, and the other question is how many rounds and what cleaning intervals and procedures should one follow between the rounds.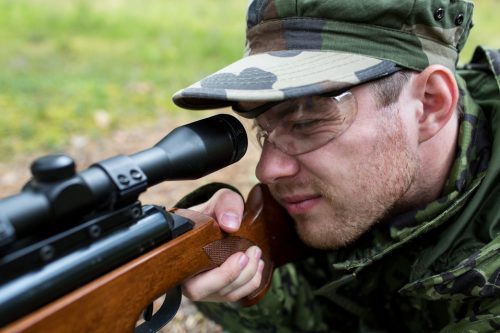 Many experts and informed rifle users have varying opinions on both questions, and they recommend varying procedures. Here is what most experts recommend about break-in process of a new rifle barrel.
Barrel Break In
You may have heard something like this before; "a barrel being shot in, and it took x rounds to do so". This is what we call "barrel break-in." Most rifles, including the newly purchased ones, require being "broken into" to help burnish or smooth out the bore which slows the accurateness robbing fouling process.
Here is how to properly break in a new rifle barrel for top-notch accuracy;
First, you may already be familiar anabolen power with the basic concepts of barrel break-in. Most manufacturers provide break-in guidelines in their user manuals, and you can also get the procedure on many forums and websites.
While they differ depending on specifics, most involve firing a series of single shots, each shot followed by a thorough cleaning. This is followed by a series of three shots, each followed by a thorough cleaning, then followed by a series of five-shots, each followed by thorough cleaning.
In most cases, it takes around 20 shots at most to break in properly. Depending on the caliber as well as how a rifle was bedded, this could take a couple of rounds.
However, modern rifles simply don't budge. As long as they have a good barrel, they will shoot well from the first round.
So, what is the purpose of a barrel break-in? Put simply; it is meant to get rid of microscopic imperfection from manufacturing and smooth the bore without adding a copper-fouling coating between the bore and bullet in the process.
How to Decide Whether to Break-In Your New Rifle Barrel or Not
As mentioned earlier, the break-in process depends on the type of rifle you have purchased. Not all rifles will require a break-in, but you should be prepared to do it if it necessitates.
So, whenever you purchase a new rifle, have some expectations. For a hunting-grade gun. It should shoot minute-of-angle with a good commercial hunting load. For a custom rifle or match-grade rifle, you should expect a sub-moa shoot with a majority of accurate loads.
All the rifles are fired for basic accuracy and function before they are released by a manufacturer, and generally, most of them are not thoroughly cleaned afterward. Therefore, the first thing to do is to give your new gun a basic cleaning. This is just to remove any residual factory crud, and not necessarily copper-fouling.
After cleaning, you can fire three rounds with a known accurate ammo in your chamber. If the load meets your expectations for your rifle, then go on and for a couple of shooting rounds without a break-in. However, do regular cleaning and maintenance procedure using quality gun oils and solvents.
However, if you find that the ammo didn't meet your expectations, you can go ahead and conduct a break-in procedure outlined in the owner's manual supplied by your gun's manufacturer. This will help it improve accuracy.
There are other rifles which will shoot accurately for the first few rounds then begin to deviate from your set targets. In that case, you need to break-in to rectify the deviation. After that, you should note greater improvement.
Wrap Up
The final and most important thing you should take from all this is that you are the one who decides if your new rifle need a formal break-in process. Remember that the main mission is to improve the smoothness of your bore- not to scratch it up more.
You must always break-in from the breech end of its barrel, and not from the muzzle. You must also use a non-marring rod. You don't want to be one of those gun owners who need a new barrel because they scratched it up during break-in process, instead of wearing it out during shooting rounds.